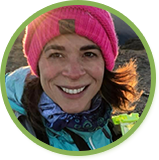 DeAnna Roering
DeAnna Roering
Born and raised Alaskan, DeAnna "De," loves to explore her big backyard that she'll forever call home, Alaska! She is energetic with a wanderlust heart, who loves new experiences; there is not much she won't try. She loves to fish and her happy place is in or on the water.
She earned her EMBA in strategic leadership and works in corporate and tribal grant management. She has been playing guide since she was little and now does it professionally.
DeAnna is passionate about serving her community and making a positive impact on people. She and her son love to volunteer together. It's important to her that he understands the beauty and fulfillment that comes from providing a hand up to those in need.
When asked what she loves about Alaska, she compared it to Christmas and said, "Alaska is like watching children open presents on Christmas morning. It's magical and you're fueled from their excitement. The feeling is similar when watching expressions light up across people's faces when they see our mountains, wilderness, and wildlife. It's absolutely incredible and fills my heart. Alaska is breathtaking and the view never gets old."