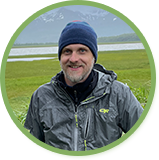 Eric Segalstad
About Eric Segalstad
Eric, a Norwegian native, lives in Vermont and two decades of working in the travel industry has brought him to five of the world's continents. He has guided guests with Gondwana in Alaska and Norway, co-guided exploratory ski trips in Patagonia, and helped train guides in Europe.
These days the majority of his work as Vice President for Gondwana Ecotours, requires office time. His responsibilities include marketing, business development, and driving operational efficiencies.
Outside of work, Eric stays busy producing music, mountain biking, skiing, becoming a better surfer, hiking, or paddle boarding with his wife and rescue dog.