Alaska is famous for its snowy vistas and imposing icy scenery, so it might surprise you that for many Alaskan adventures, the best time to visit can be in summer. 
The weather is often clearer, providing access to incredible views and great wildlife watching. One of the highlights is that grizzly bears gather every summer in rivers around Alaska in order to feast on salmon as they swim upstream to spawn.
Because of Alaska's summer tourist season, few summer activities are available before May or after September. So if you have an interest in kayaking, hiking, deep-sea fishing, or whale watching then an Alaska Summer Tour is for you.
Anchorage
Anchorage is the gateway to an Alaska adventure with both nature and culture within reach. There is plenty to do here, including hiking or cycling the 11 mile Coastal Trail and visiting the Alaska Native Heritage Center. If you are planning an Alaska summer tour, this is a great first stop. 
Kenai Fjords National Park & Exit Glacier
As you travel through Kenai Fjords National Park, it's important to keep your eyes peeled for sightings of incredible Alaskan wildlife. You could see orcas, sea lions, harbor seals, puffins, bald eagles, porpoises and more. 
One of the special opportunities available in Kenai Fjords National Park is the chance to kayak through some of the most spectacular scenery in Alaska. This magical experience is made even better by the views, the sounds of cracking ice and incredible wildlife encounters.
Exit Glacier in Kenai Fjords National Park is arguably one of the most famous. This beautiful glacier at the edge of the Harding Icefield measures about four square miles. In the past 100 years, it is estimated to have retreated a full mile, a timely reminder of how our climate is changing. 
While you're in Kenai Fjords National Park, you may also choose to take part in exciting activities such as deep sea fishing or glacier dog sledding! This is a great place to go if you want to see the best of Alaska in the summer.
Homer
Homer, Alaska is known as the "end of the road" because it is the very end of the U.S. Highway system.
You can board a boat in Homer and try to spot majestic humpback whales. Humpbacks migrate to feed in Alaska's coastal waters every summer, and you can see them on whale watching trips out of Homer. You might also be able to catch sight of some other species of whale such as orca, beluga whales, and gray whales. Sea Otters and Bald Eagles are often frequent visitors.
Katmai
Katmai National Park is famous for many things; valleys, lakes, active volcanoes, and wildlife! Alaska is the U.S. state that has the highest number of active volcanoes. The Valley of Ten Thousand Smokes in the Katmai National Park is one of the most popular volcanic sites in Alaska. 
Katmai National Park is also home to Brooks Lodge; a world famous grizzly bear viewing site. On our Glaciers & Grizzlies Adventure tour our guests take a chartered flight to Katmai National Park to view grizzly bears. The views from the plane are incredible enough, but the views of the bears are absolutely mind blowing! We spend hours watching the bears feed, play, and interact at Brooks Falls. There are plenty of opportunities to take photos from different viewpoints and you can learn about bear behavior from our expert guides. 
Lake Clark National Park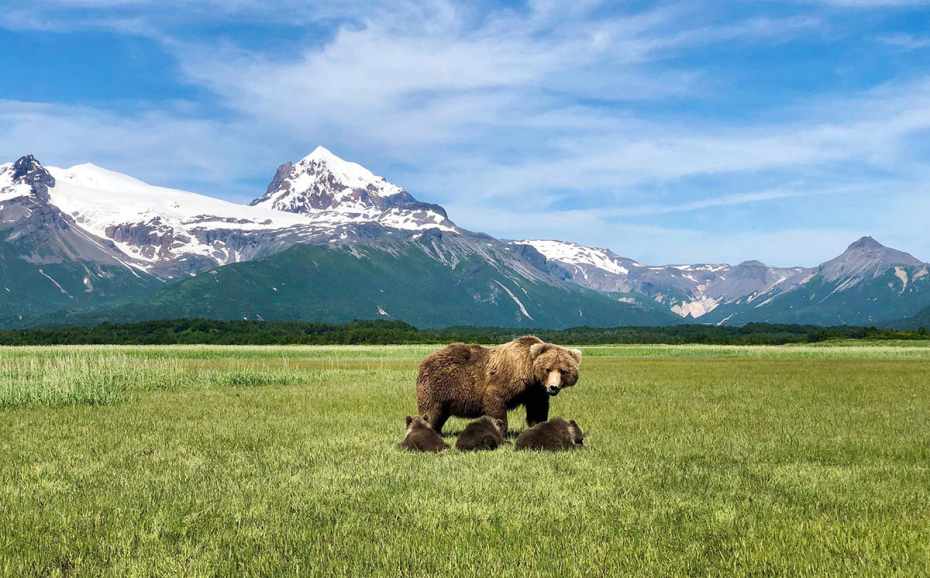 In spring to summer grizzly bears spend time on beaches, digging for food. Areas like Chinitna Bay in Lake Clark National Park are great places to witness this behavior. We run our own 9-day trip called the Glaciers & Grizzlies Adventure tour which visits Lake Clark and or Katmai National Park depending on the weather and the chance of seeing bears! Lake Clark and remote areas of Katmai National Park have fewer crowds and are a bit wilder than Brooks Lodge, but all these spots are incredibly special.
Fairbanks
Fairbanks is the second largest city in Alaska and offers a unique opportunity to travel to a remote place and still enjoy all the amenities of a city combined with rich Native culture, authentic Alaskan activities and opportunities for exploration. You can explore world-class exhibits on Alaska's history and seasons and learn about traditional native art, dance, and music. Fairbanks is the starting point of our Denali Discovery Adventure tour. 
Denali National Park
Denali National Park is accessed through a beautiful drive southwest from Fairbanks. On clear days you can see the summit of Denali, the highest mountain peak in North America at 20,310 feet above sea level.
In Denali National Park you may want to opt for a guided hike, a stop at the official Visitor Center, go white water rafting, or visit the resident sled dogs and learn about them from the park rangers.
Travelling through the National Park offers views of Denali, Wonder Lake, and potential wildlife encounters with bear, moose, and Dall sheep. You may also want to charter a bush plane, like we do on our tour, which offers an incredible perspective of the National Park and one of the most dramatic mountain views on Earth.
If you're looking for the best Alaska summer tour packages, you may want to consider our Glaciers & Grizzlies Adventure or our Denali Discovery Adventure, both of which depart in summer and give you some of the best experiences that Alaska has to offer.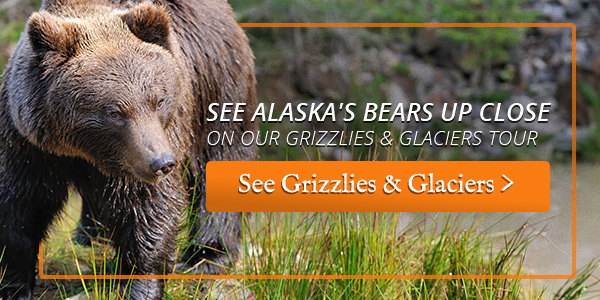 Resources