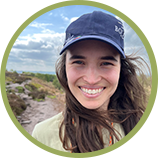 Bethany Newark
About Bethany Newark
Beth is a wildlife conservationist based in the United Kingdom. As a communications professional who specialises in working with wildlife conservation organisations, Beth has worked all over the world including living in New Zealand for several years and working in the savannas of South Africa.
Beth manages Gondwana's social media channels and writes articles for our blog, Travel Journal.
Beth believes that the future of our planet depends on people learning about, caring for, and protecting it – and that her job is to make sure they get the message. In her free time, Beth loves birdwatching, hiking, and contributing to scientific wildlife monitoring programmes.