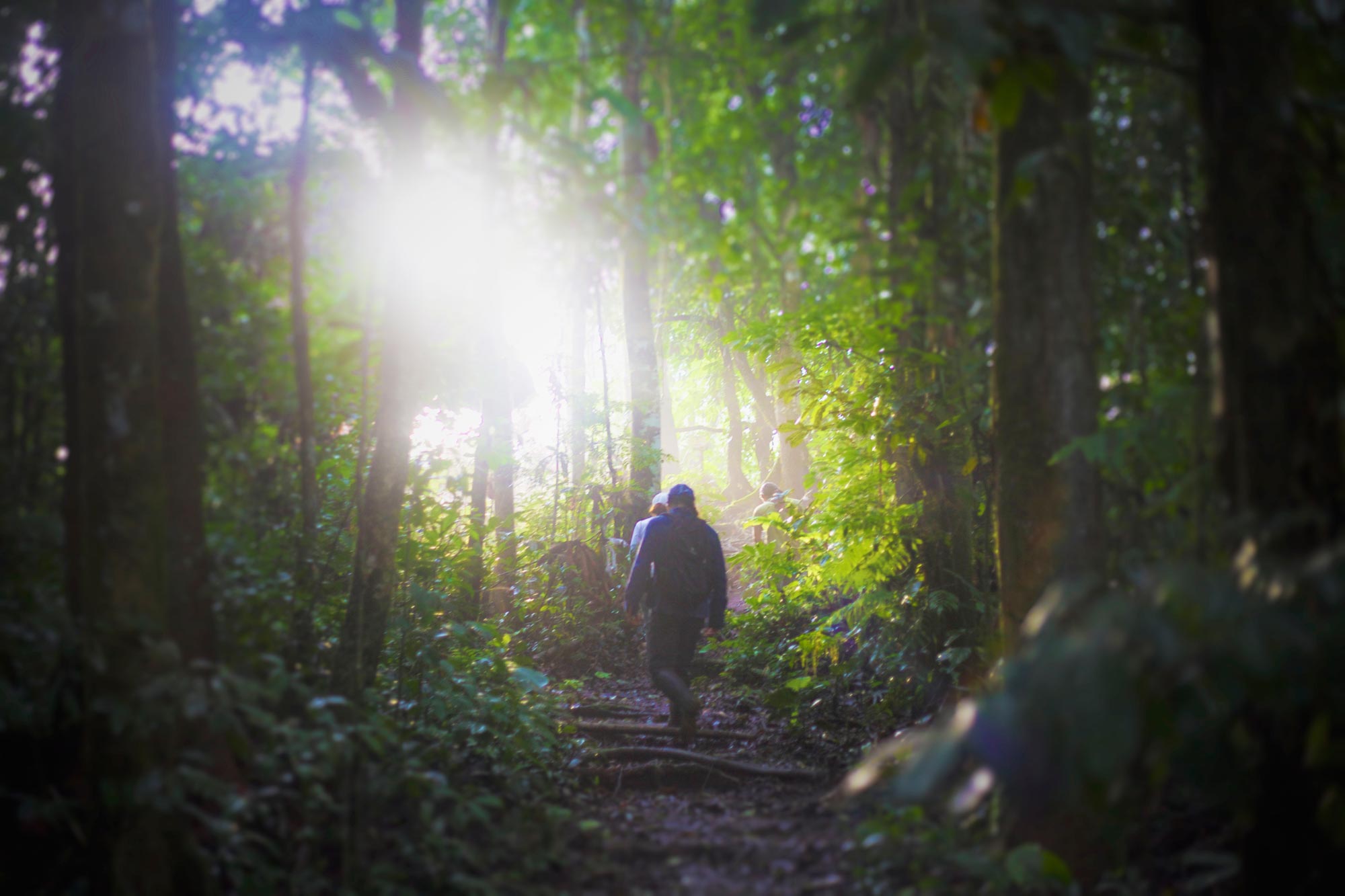 Four years ago, I woke up at 4:00 AM and slowly made my way to my Achuar host family's hut in the Ecuadorian Amazon Rainforest. I drank huayusa tea and gave it time to cleanse my body, as it was customary. All of the members in the family in a circle shared their dream and their elder, Celestino, interpreted them. It then became my turn to reveal what I dreamt the night before to my family.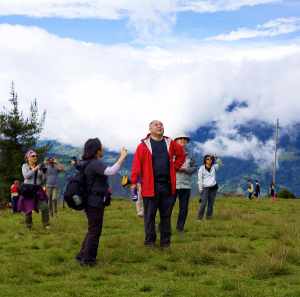 Our first organized small-group ecotour to Ecuador was exhilarating not only for me, but to our guests as well. They did not have to worry about all the little details that goes into planning these amazing adventures, they could sit back and enjoy the experience with their fellow travelers and appreciate the thrilling cultural and natural beauty of Ecuador.
We crossed the Andes Mountains, toured the famous waterfall region (also known as the Gates to the Amazon) and boarded small charter planes that brought us to the Achuar Territory in the Amazon Rainforest. When we reached the quaint and beautiful ecolodge managed by Achuar community members, everyone seemed as if they just arrived to Eden.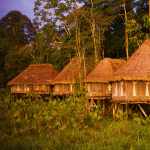 The winding decks surrounded by lush, green vegetation that connect to private rooms, the restaurant and the cafe always reminded me of the house in the film Swiss Family Robinson. We went birding, rode on a motorized canoe (and saw some pink river dolphins!), hiked, kayaked, partook in traditional Achuar face-painting and even ate a delicious lunch right in the middle of the rainforest with red howler monkeys looking down at us from the tall trees.
One of my favorite parts of this journey and something new for me was learning more about the younger generation of the Achuar. I met one young man in particular, Napoleon. This 22 year old native Achuar man explained to me in his exceptional Spanish, his desire to learn English, his progressive ideas of gender equality and his commitment to protecting his culture, community and home. By the end of our stay in the Achuar's home, it was time to stray away from the ecolodge and meet an Achuar community.
Once we arrived into the community of Suwa, our group of sixteen split in half—eight went into one house and eight into another. The group I was a part of went into the household of Luis Ankuash Kiakua. My guide Lorena, suggested this community because they are exceptionally warm and welcoming. It is a newer community that developed right alongside the Amazon River (all of their houses probably have the best view of the sunsets over the Amazon River).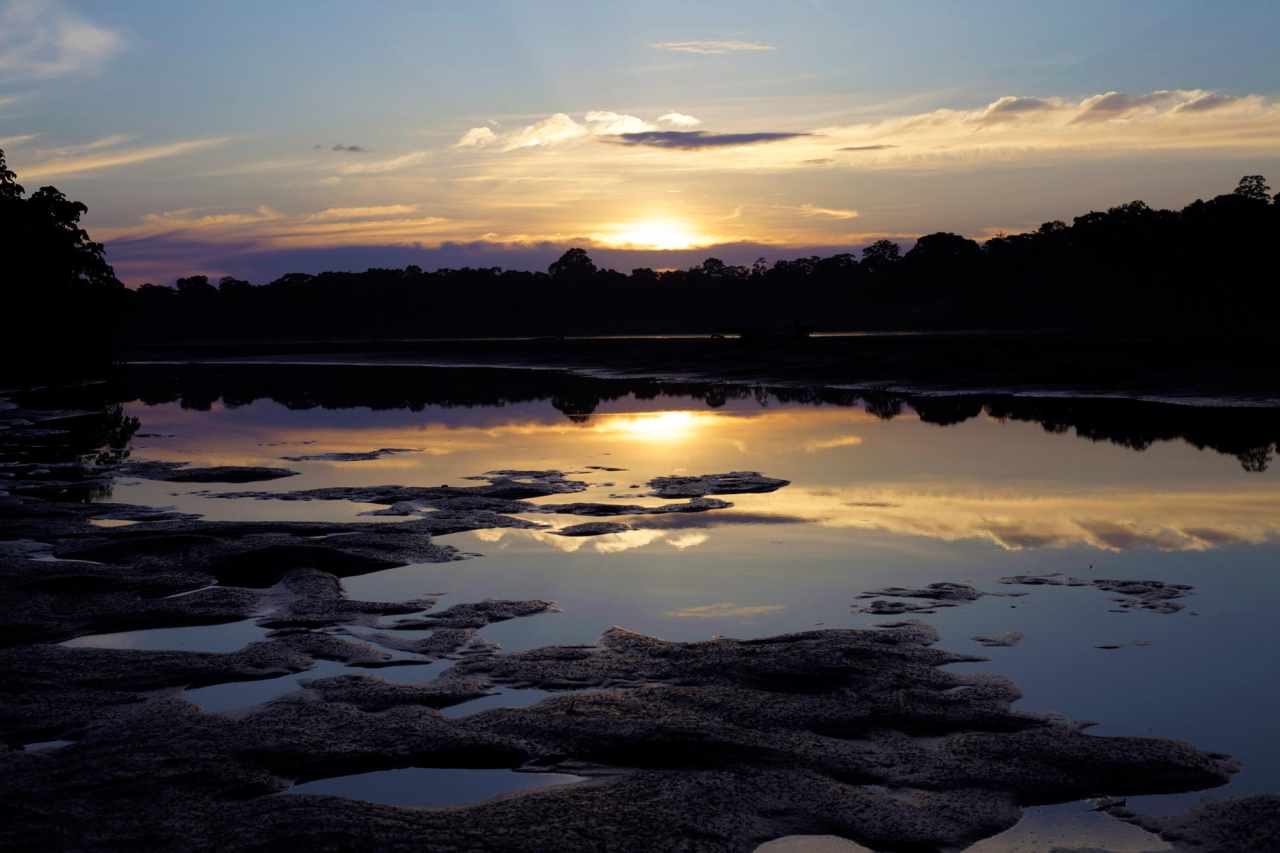 An Achuar's elliptical-shaped house is divided in two: the back part of the house is private and the front part of the house is for guests. As my group stood in the guest part of the house, our Achuar guide Celestino (that's right, the chief of the village I stayed in four years ago and the man who interpreted my dream) and Luis, began the traditional back and forth greeting dialogue. It consists of a person asking what led you here, and the one who responds explaining the actual activities that led them to this certain place. The questioner gives many loud affirmative grunts and sighs over the response. It's quite theatrical and very entertaining. Luis asked us to one-by-one introduce ourselves and say whatever we would like to about ourselves, experience or anything that was on our minds. All of my group explained how appreciative they were to be here and how touched they were with the Achuar's commitment to preserving their home in the Amazon Rainforest.
Shinji, a Japanese-American from my group was moved to sing a song from his childhood in Japan, a beautiful rendition he told us was about the beauty of the forest. It was then my turn to speak. I spoke in Spanish to Celestino, who then translated it into Achuar to Luis. I told him about my amazing summer with the Achuar four years ago (which you can find out more about here), and about my dream.
Telling my dream-sharing experience to this young man through Celestino represented two things to me: my dream had become a vivid reality and there is much hope for the future of the Amazon Rainforest. It was just in that moment I understood how Celestino interpreted my dream four years ago.
My homesickness that manifested into a dream was actually my strong desire to bring people to this place. And, there I was, telling this young Achuar with my friends, family and Celestino, bringing people to their home was now my reality.
The reason that moment represented hope for the future of the Amazon to me was, because I stood in front of a young person continuing his culture.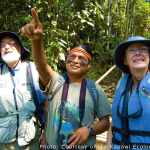 He had not left to go find other work in the capitol. He stayed at his home enjoying and valuing his life in the rainforest and sharing the beauty of this place with strangers.
The Achuar's preservation of culture plays an essential role of protecting the Amazon Rainforest from natural resource exploitation and development. The Kapawi Ecolodge is their alternative source of income that allows them to emerge onto the global economy without excessive compromise to their traditional way of life.
To learn more about how to visit the Achuar and the Kapawi Ecolodge, check out our small group tour to the Amazon Rainforest.