Patagonia & Mendoza Adventure
Take In the bold and stunning scenery of Argentina as we follow the spine of the Andes from the wine country in the North to the peaks and glacial lakes of Patagonia in the South.
Savor world-class local wines, follow picturesque trails, and enjoy the spectacular Southern region of Patagonia—Glacier National Park and the Fitz Roy Mountain—one of the last, vast wilderness regions in the world. Walk on the ice of the Perito Moreno glacier, considered the eighth wonder of the world for its spectacular vistas. Eat local cuisine such as the famed Argentinian asado (BBQ) and learn about Argentinian culture and nature from our friend Dani Catania, a world-class Argentinian guide.
What's Included in the Patagonia & Mendoza Adventure
9 Nights at Comfortable Local Lodges
24/7 Argentine Guide
Transportation in comfortable passenger vans with professional local drivers
All Meals Apart from two dinners on your own
Dinners include one bottle of wine for every two guests
Vineyard visits with wine samples
All National Park Fees
All Tours and Activities as noted in the itinerary
If you're looking for departure dates, prices, and the full itinerary, please download the tour brochure using the form on this page.
Argentina Tour Map of Mendoza and Patagonia Click to Enlarge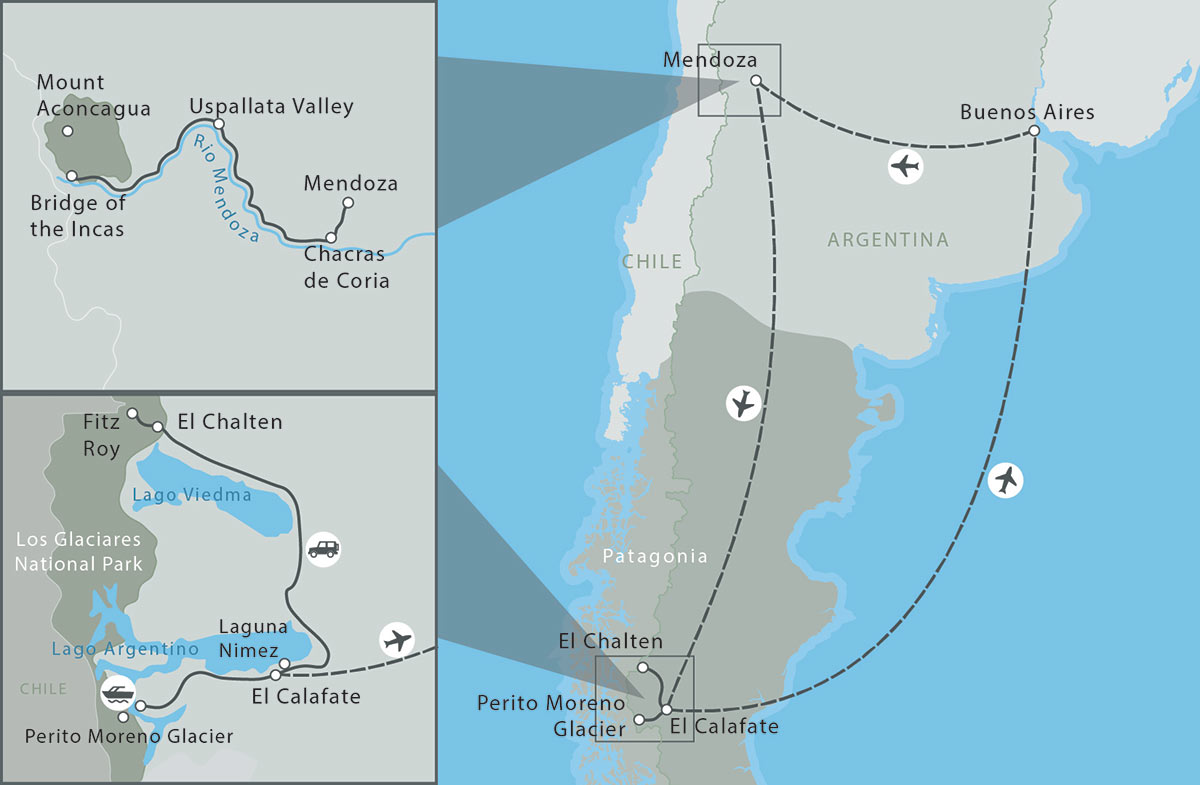 Download the brochure for tour dates, prices, and the full itinerary.
Make the best of your trip by adding on before or after the main portion of adventure. Learn more about these by downloading the brochure above.

Pre-Trip:
Iguazu Falls Extension
Experience the power, awe, and natural beauty of 275 massive waterfalls on the shared border with Brazil.
Post-Trip:
Ushuaia Extension
Ushuaia on the tip of the South American continent is an incredible place of natural wonders on sea, land, and in the air.

What an amazing company to book your adventure with. I booked a tour to Patagonia, and I've never done a tour as I usually do adventures on my own, but Gondwana completely changed my mind. I will 100% use this company in the future. My trip was absolutely amazing and I commend this company on how eco friendly they are. The guide was so knowledgeable and caring. My group all became best of friends. If you're looking for a tour that you can count on...this is the company you should use!

JENNIFER LYLES
Gondwana Adventurer

Check Out the Patagonia & Mendoza Photo Gallery!