Explore Norway's most iconic region—from mountain passes and glaciers to picturesque fjords cut between towering mountains.
But the wonders of Western Norway extend far beyond its fjords. On this tour we'll also explore charming coastal towns that effortlessly blend old-world charm with modern delights. Wander through colorful streets lined with wooden houses and discover the warmth and hospitality of the locals, eager to share their rich cultural heritage with us.
EXPLORE Norway's most iconic region—from mountain passes, panoramic roads and glaciers to fjords cut between tall mountains.
SAVOR a delicious dinner at a mountaintop restaurant accessed by a sky lift from the valley floor.
EXPERIENCE Norway's centuries-old coastal culture, meeting interesting locals along the way.
WALK old picturesque trails to glaciers and scenic summer farms and enjoy picnic lunches while you take in spectacular vistas.
KAYAK in a dramatic fjord across calm waters.
BOARD a RIB boat and travel the UNESCO listed Geiranger Fjord, stopping to marvel at the famous Seven Sisters Waterfalls cascading 1,350 feet into the fjord.
ENJOY a guided tour of the UNESCO listed Bergen Wharf, with its historic wooden warehouses.
STAY in a historic hotel with incredible views that has hosted royals, authors, and dignitaries for more than a century.
What's Included In Norway: Western Fjords Adventure
Eight nights at city & boutique hotels

24/7 local Norwegian guide & Gondwana trip leader

Private transport with professional drivers and ferry boat captains

All tours and activities as described in the itinerary 

All meals except one lunch on your own

Tips for activity guides

Transfers to and from the airport

To minimize our trip's impact on the environment we pay to carbon neutralize the entire tour and activities, as well as guest flights to and from Norway.
If you're looking for dates & prices and the full itinerary, please download the tour brochure using the form on this page.
Norway: Western Fjords Adventure Tour Map Click to Enlarge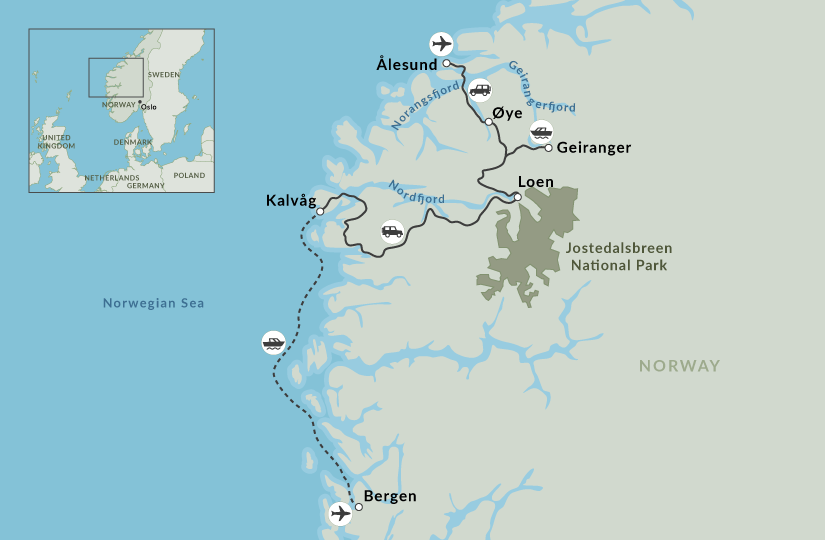 Download the brochure for dates, prices, & the full itinerary.

What an amazing company to book your adventure with. My trip was absolutely amazing and I commend this company on how eco friendly they are. The guide was so knowledgeable and caring. My group all became best of friends. If you're looking for a tour that you can count on...this is the company you should use!
JENNIFER LYLES
Gondwana Adventurer