Explore Louisiana's Incredible Culture & Nature over the course of five days with a local guide!
EXPERIENCE the incredible culture of Louisiana, from a private tour of New Orleans' French Quarter to unique experiences across Cajun Country with local experts.

DISCOVER swamps and bayous by boat and canoe, spotting wildlife with our naturalist guides.
LEARN how to cook traditional Cajun and creole dishes from a local chef while you sip on a local craft beer (or wine or a soft drink).
IMMERSE yourself in the important history of the Whitney Plantation, the country's only museum dedicated to the lives of the enslaved who worked on plantations across the American South.
VISIT a local Zydeco music legend in his recording studio.
ENJOY getting to know a local specialty farm, capped off with a fresh and delicious Cajun seafood boil for dinner (*option available for people who don't enjoy seafood).
TASTE local delicacies like boudin, étouffée, frog legs and boiled crawfish.
What's Included in the Cajun Country Adventure?
Four nights of accommodations
Private transportation during the tour to and from New Orleans
Breakfast, lunch, and dinners* for the duration of the tour, including a private seafood boil, and a beer or cocktail with dinner.

*Dinner in New Orleans on the first night is not included in the tour price.

Four days of private guiding from an experienced and professional Louisiana-based guide
All activities in the itinerary including a private Cajun cooking class, self-guided audio walking tour of the Whitney Plantation, a visit with a local Zydeco legend at his recording studio, guided canoe tour on Lake Martin, a flatboat wildlife tour of a swamp, and a visit to a local specialty farm
We pay for Carbon Offsetting for each guest to minimize our trip's impact on the environment
Louisiana Cajun Country Tour Map Click to Enlarge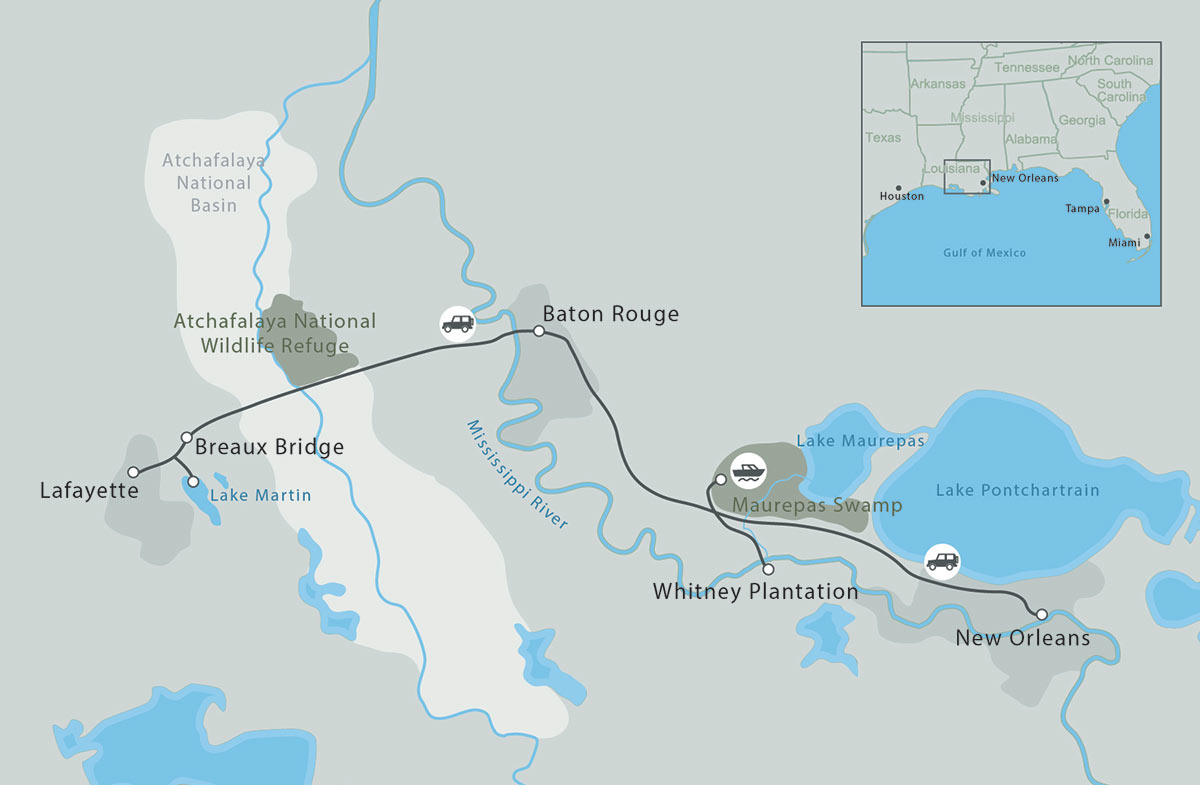 Download the brochure for tour dates, pricing and the full itinerary.

This was a truly memorable and eye-opening trip to a part of the country we've never seen before. We explored nature with a guided swamp boat ride and a guided kayak tour… We explored the culture with our visit to a Cajun musician, along with a Jambalaya cooking lesson and a shrimp boil… They were professional, entertaining and informative. A truly wonderful experience.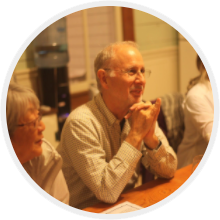 LAWRENCE D
Gondwana Adventurer