Up Close with the Incredible Nature and Culture of Louisiana
Explore New Orleans, Cajun Country, Swamps and Plantations with
Beyond the Bayou Tours
Down in Louisiana, we have been operating tours under the name "Beyond the Bayou Tours" since 2016. Our locally crafted tours are the most authentic Louisiana experiences on the market. We offer a variety of packages, and we have the ability to customize itineraries to your liking. Our tours are always small groups, and can be private upon request.
Our attention to personalized service is what sets us apart from the competition. Our code of environmental and business ethics guarantees that we treat the ecosystem right and put your money back into the LA economy through small local businesses.
View Gallery
---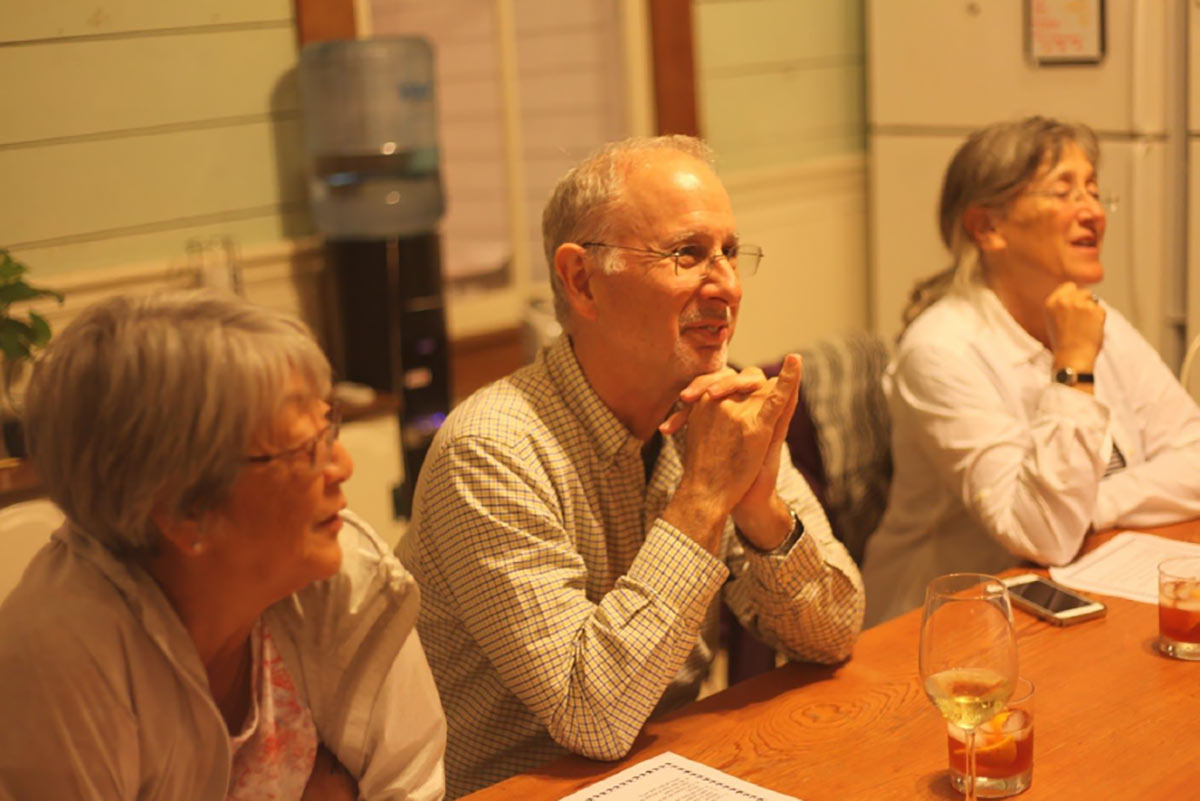 "This was a truly memorable and eye-opening trip to a part of the country we've never seen before. We explored nature with a guided swamp boat ride and a guided kayak tour… We explored the culture with our visit to a Cajun musician, along with a Jambalaya cooking lesson and a shrimp boil… They were professional, entertaining and informative. A truly wonderful experience."
—Lawrence D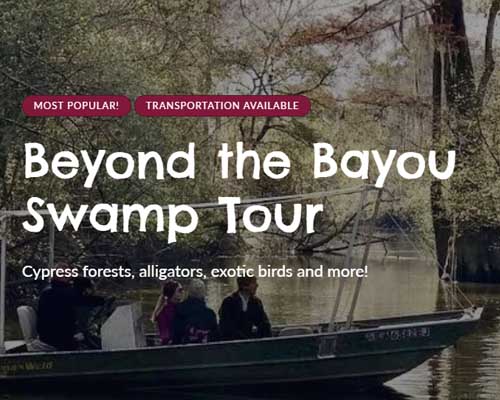 Beyond the Bayou 2 Hour Swamp Tour
Explore the Pearl River, the most biodiverse river system in the state. Join our expert local captain and see the parts of the swamp the other tour boats can't get to. Cushioned seats and a canvas top keep you comfortable while looking for gators, turtles, snakes and exotic birds.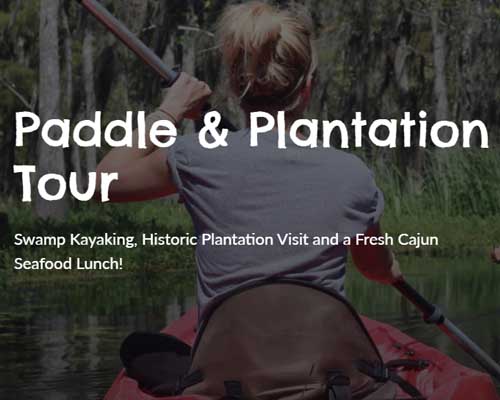 Paddle & Plantation Tour (full day)
First we visit Whitney Plantation, built in 1752 and recently restored as a museum and slave memorial. Next we enjoy a home cooked Cajun meal with lots of fresh caught seafood available. Then we meet our master naturalist guide and head out for a paddle through one of Louisiana's most scenic swamps. Great for photographers and wildlife lovers!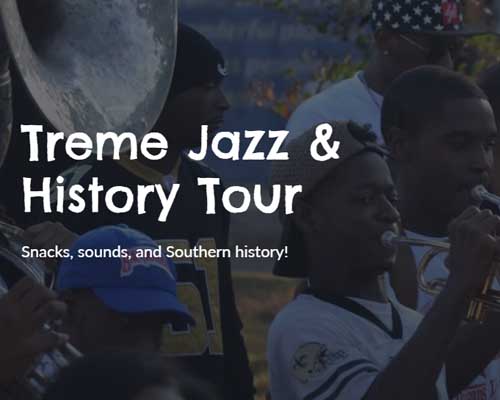 Treme Jazz & History Tour (full day)
Tour the historic Treme neighborhood and learn about the African roots that built the Creole culture New Orleans is known for today. See famous sights like Congo Square and St. Augustine Church, and learn about all the musicians who started out here. Enjoy a Creole or Cajun lunch and take a trip to the Whitney Plantation, a beautiful property converted into a memorial to the slave trade and plantation life.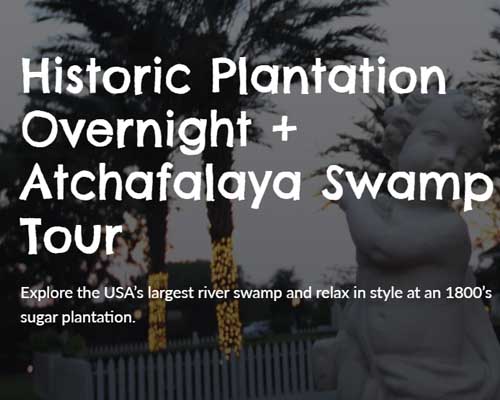 Historic Plantation Overnight & Atchafalaya Swamp Tour
(2 Days All Inclusive)
Immerse yourself in Louisiana's history, culture, and nature on this two-day tour that takes you to the luxurious Nottoway Plantation and Atchafalaya Basin, the country's largest river swamp, with an expert local guide.Relax in luxury and get deeper into the swamp than you can anywhere else.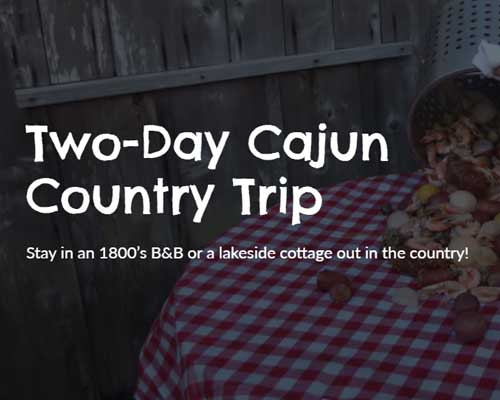 Cajun Country Adventure
(2 Days All Inclusive)
We packed as much as we can into just 2 days! Take an epic swamp tour, visit a plantation, learn to make jambalaya while discovering the music, food, and culture that make this area so unique.
Ultimate Cajun Country Adventure
(4 Days All Inclusive)
Experience all the sights, sounds and flavors on this 4-day trip. Our itinerary is jam-packed with history, cooking classes, bayou kayaking, a zydeco music studio visit, a swamp tour in Lake Martin, the Tabasco plantation, live music and more…