Kayaking through the narrow inlets of the Kenai Fjords feels like stepping back in time. While the rugged landscape is remote and nearly inaccessible in some areas, people have been traveling these waterways for over a thousand years. The Sugpiaq people (also known as Alutiiq) learned to master the ever-changing Alaskan seasons by embracing the sea. They hunted, fished, and migrated on kayaks and flat-bottom boats, adapting to the ever-shifting ice fields and the extreme northern temperatures. They became connected to their environment in a way that few of us will ever have the opportunity to experience. Luckily, you can still get a sense of what it might have been like for them as they paddled up the fjords alongside towering glaciers on our Gondwana Ecotours Glaciers & Grizzlies Adventure.
What are the Kenai Fjords?
The Kenai Fjords were created by the slow creep of glacial ice carving deep inlets into the rock. The ice that once covered most of Alaska has now retreated to a few dozen icefields, one of the largest being Harding Icefield near Kenai. It's home to nearly 40 glaciers and sits just outside of Seward, Alaska—a popular port for Alaskan cruise ships and a stop on our Glaciers & Grizzlies tour.  We launch our kayak expedition from Seward into the famed Resurrection Bay, known for its deep coves, abundant wildlife, and stunning  views. The bright blue of the glaciers next to the pine woods along the coast make a dramatic backdrop for this Alaskan adventure.
Kenai Fjords Wildlife
While many people travel to Alaska to see whales or grizzly bears, they might not realize just how diverse the wildlife here can be. Whether you look to the land, sea or air, you will  find creatures both great and small. The fjords of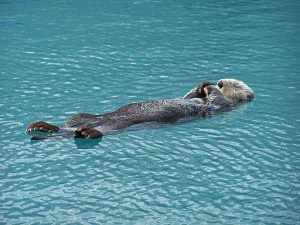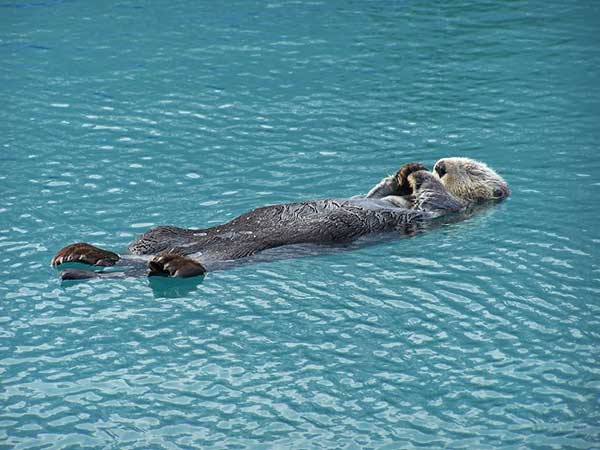 Kenai are the nesting grounds for 20 different seabirds, including the bald eagle, the peregrine falcon and the lovable puffin with its colorful beak. In the waters around the bay, you find not only humpback whales, but also porpoises, orcas, sea otters and harbor seals. And on land, you can catch a glimpse of bears and moose moving between the trees. With so many different species, one of the best ways to be able to see them all is to paddle quietly through the water in a kayak. You might just find yourself gliding next to playful otters or catching sight of an eagle diving to catch its prey.
Kenai Fjords Weather
You might assume that kayaking near Alaskan glaciers would be freezing, but actually, in the summer and early fall,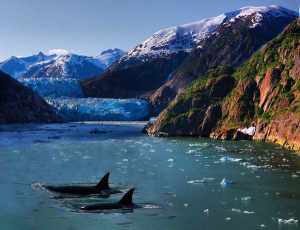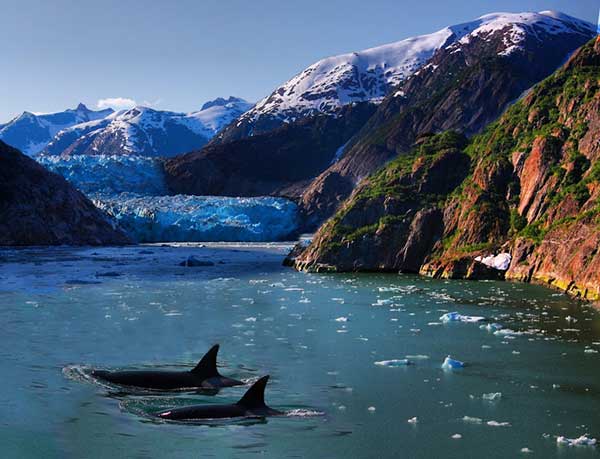 the weather is fairly temperate. It can range from around 50 to 70 degrees Fahrenheit. The water can be significantly cooler, but it's not as cold as you may think, averaging about 50 degrees. However, since the weather is often unpredictable, it's important to prepare for your trip by dressing in layers and wearing waterproof pants, shoes, and jacket. If you travel with us, we will provide you with waterproof gear to wear on your kayaking expedition. We also have a complete packing list that will help guide you on what type of clothing you need to bring in order to be comfortable on your trip to Alaska.
Kayaking through the fjords of Kenai is a one-of-a-kind experience. You might never have imagined that one day you could paddle through the waters of Resurrection Bay next to a pod of porpoises, or that you could come face to face with a brilliant blue glacier. But Gondwana Ecotours has put together a trip that can make all of these experiences possible and more! We create unique adventures  for people who want to experience something new and off-the-beaten path. But don't take our word for it, hear what it's like from our other travelers!
Download Our Northern Lights Brochure Here.
[ninja_forms id=13]