Tanzania is famous for its wildlife, which is no surprise since the country has designated 25% of its land to wildlife sanctuaries and national parks. This is among the highest of any country in the world. Tanzania's national parks add up to an area greater than the whole of Germany. The Serengeti National Park, Tanzania's oldest and most popular park for visitors, is home to over 1.7 million wildebeest and about a million other animals.
Tanzania's scenery is exceptional. It is home to Mount Kilimanjaro, the highest point in Africa and once an active volcano. Tanzania is bordered by three of the largest lakes in Africa: Lake Victoria to the north, Lake Tanganyika to the west, and Lake Nyasa to the southwest. 
Additionally, Tanzania has a rich and fascinating culture. Its population includes around 120 different African tribal groups. 
Tanzania offers a wealth of options for travelers who want to experience authentic African safari tours. 
What makes a great Tanzania safari tour outfitter?
Tanzania is generally considered a safe safari destination. Furthermore, the local knowledge is amazing and there is a great choice of accommodation. 
Tanzania is a safe and politically stable country. Travelers often feel very welcome in Tanzania because the people are some of the most friendly you will ever meet.
Tanzania has a less "touristy" feel than some of the more popular destinations like, say, South Africa, because it is one of the least crowded places to go on safari. The national parks, such as Serengeti National Park and the Ngorongoro Crater are often quieter and more remote than some of the other common safari destinations. 
Having local guides with a wealth of knowledge about the region's geography, natural history, flora, fauna, and local culture and customs is key. If you are traveling with an established safari company, like Gondwana Ecotours, your guides are local experts with a vast amount of knowledge. 
What types of Tanzania safari tours are there?
Safari tours will almost always include game drives. Wildlife viewing is one of the most important and memorable parts of your African safari experience. You may see Africa's Big Five game animals: lions, leopards, elephants, rhino, and buffalos. It's important that the vehicle you are traveling in offers unobstructed views of wildlife, so you don't miss out on any of the action. On a Gondwana Ecotours African safari, you're guaranteed a window-seat in a private to our group Toyota Land Cruiser. Having local, knowledgeable guides take you on your African safari is important because it will enrich your safari tour experience and make it even more special. Our expert guides have strong community ties. 
One of the biggest differences between the choices of Tanzania Safari Tours is the accommodation. Which accommodation you choose will impact the experience you have. 
Staying in Safari Lodges, like on our Tanzania Lodge Safari, will often be more luxurious. On our Lodge Safari we stay at beautiful, comfortable lodges and hotels. Lodges can have comforts such as Wi-Fi, air conditioning, swimming pools, and a bar for you to enjoy a cold beer or a cocktail in the evening.
Camping while on safari, like on our Tanzania Camping Safari (Currently unavailable), is an immersive experience. Once their game drive is done, most travelers will retreat to a lodge on the edge of the park.  You get to stay out in the heart of the national park while most safari guests are back at their lodges. Sleeping under the stars, in the wild, is a truly unforgettable experience.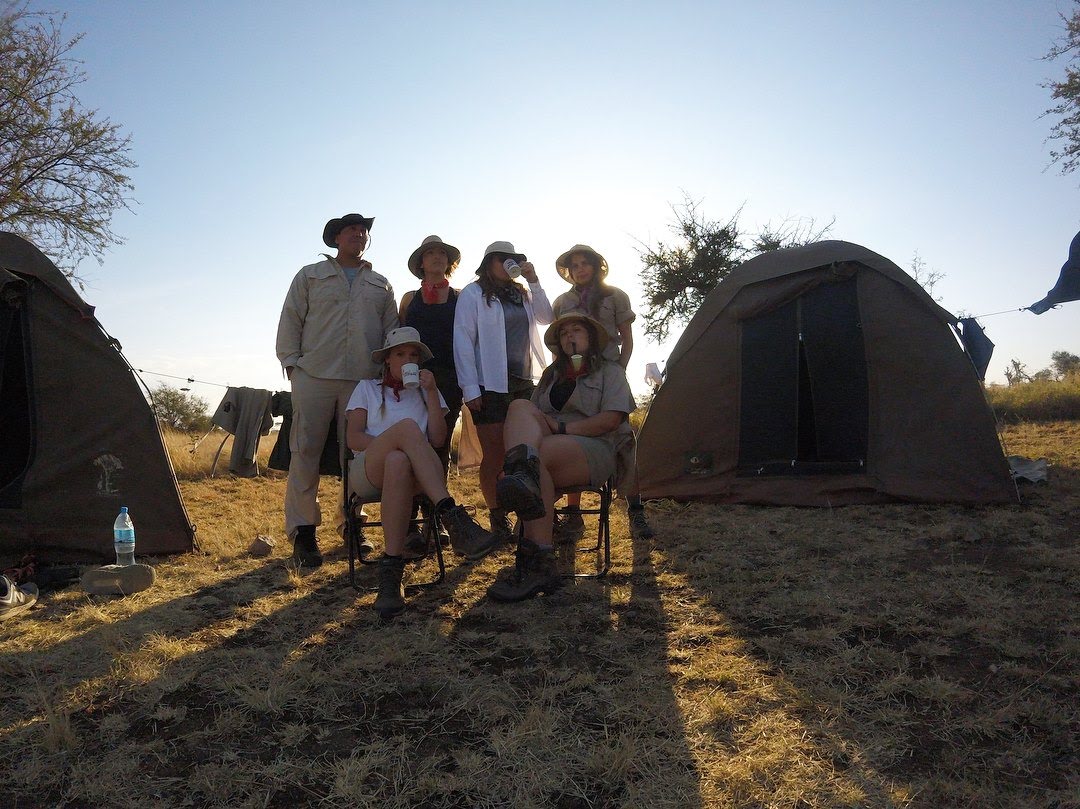 If adventure is your thing, then activities like trekking up Mount Kilimanjaro will be right up your alley. There are several routes that you can take up Mount Kilimanjaro. Taking a longer route like we do on our Kilimanjaro Trek gives you longer to acclimatize to the altitude and increases your chance of summiting. 
When should I book my Tanzania safari tour?
It is common to plan a Tanzania safari tour several months or even a year before you plan to travel. Once your place on a safari tour is booked and confirmed, organizing your flights in advance is usually more cost effective. You also need to leave time to visit a travel doctor to get advice about which vaccinations you may need for your trip to Tanzania. These requirements can change based on where you are flying from and which counties your flights stop in, so professional medical advice is necessary to make sure you are safe and ready to fly. 
Which Tanzania Safari Tour is right for me?
Choosing which Tanzania safari tour is right for you depends on your budget and personal preferences. 
 A good safari should include several game drives with many window seats, visits to multiple national parks, and some cultural components to enhance the experience and truly immerse you in the country you are visiting.
A lodge safari is definitely the more luxurious option that you should treat yourself to if you enjoy creature comforts. Whereas camping is a more budget-friendly and adventurous option.
A trek up Mount Kilimanjaro is no mean feat. This adventure offers stupendous views but requires physical fitness and stamina. Wildlife is scarce at high altitudes, so you won't encounter the typical species you'd see on a game drive through the savannah. 
Choose your safari tour based on these tips, and travel with an experienced safari outfitter to make sure you can relax and have the best time possible!
Resources