Glaciers & Grizzlies Adventure featuring Brooks Falls
Learn more about this incredible summer tour to Seward, Homer, Kenai Fjords National Park and Katmai National Park.
Don't miss this quintessential Alaskan summer bear tour, full of unforgettable wildlife viewing and incredible scenery. Two days of exclusive fly-in bear viewing. When the salmon are running we often fly to the famous Brooks Falls to witness the world's largest brown bears fishing atop waterfalls. Other off-the-beaten-path, but equally spectacular locations include Hallo Bay, Chinitna Bay, Moraine Creek, and Silver Salmon. Regardless of where we go, the bear viewing locations are all amazing.
Search for moose, whales, sea otters, puffins, orcas, eagles, sea lions and more throughout the Kenai Peninsula. Our small-group, Alaskan guided tour includes time in Seward, Katmai National Park, Kenai Fjords National Park and a night in Anchorage. We can accommodate nearly all ages and fitness levels. Cruise, hike, kayak, drive and fly through some of the most dramatic landscapes on earth.
What's Included on the Glaciers & Grizzlies Adventure?
Eight nights of premium hotel accommodations
Chartered flights to visit bears in the best locations possible in Katmai and/or Lake Clark National Parks
The Alaska Railroad from Anchorage to Seward
A helicopter ride to glacier where you'll meet Alaskan mushers, and strap in for a thrilling dog sled ride with brilliant views
All your transportation in Anchorage, Homer, Seward, and the Kenai Peninsula
Your Local Guides
A private Alaskan seafood boil at the lodge overlooking Resurrection Bay
All tours and activities (bear viewing with park rangers, a boat tour and kayaking in Kenai Fjords Nat'l Park, hiking tours, a tour of Exit Glacier, plus more...)
All meals listed as included in the itinerary

Gondwana Ecotours carbon neutralizes the footprint for each guest on this tour to minimize our collective impact on the environment
If you're looking for tour dates, prices, and the full itinerary, please download the tour brochure using the form on this page.
Alaska Summer Tour Map Click to Enlarge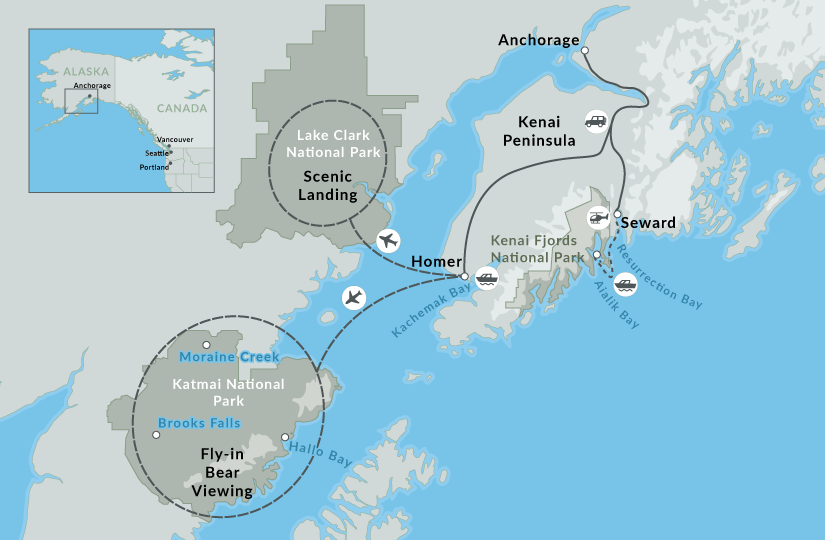 Download the brochure for tour dates, prices, and the full itinerary.

Absolutely amazing. We did the Alaska trip last year and had a fantastic time. Alaska was a bucket list item for me and this trip did not disappoint at all. They are a smaller company which means you get a more personal experience and hands on than you do with a lot of the larger ones. The value is incredible with no sacrifice to quality. You will NOT be disappointed using Gondwana Ecotours. Best quality, value and service anywhere. I will certainly be traveling with them again!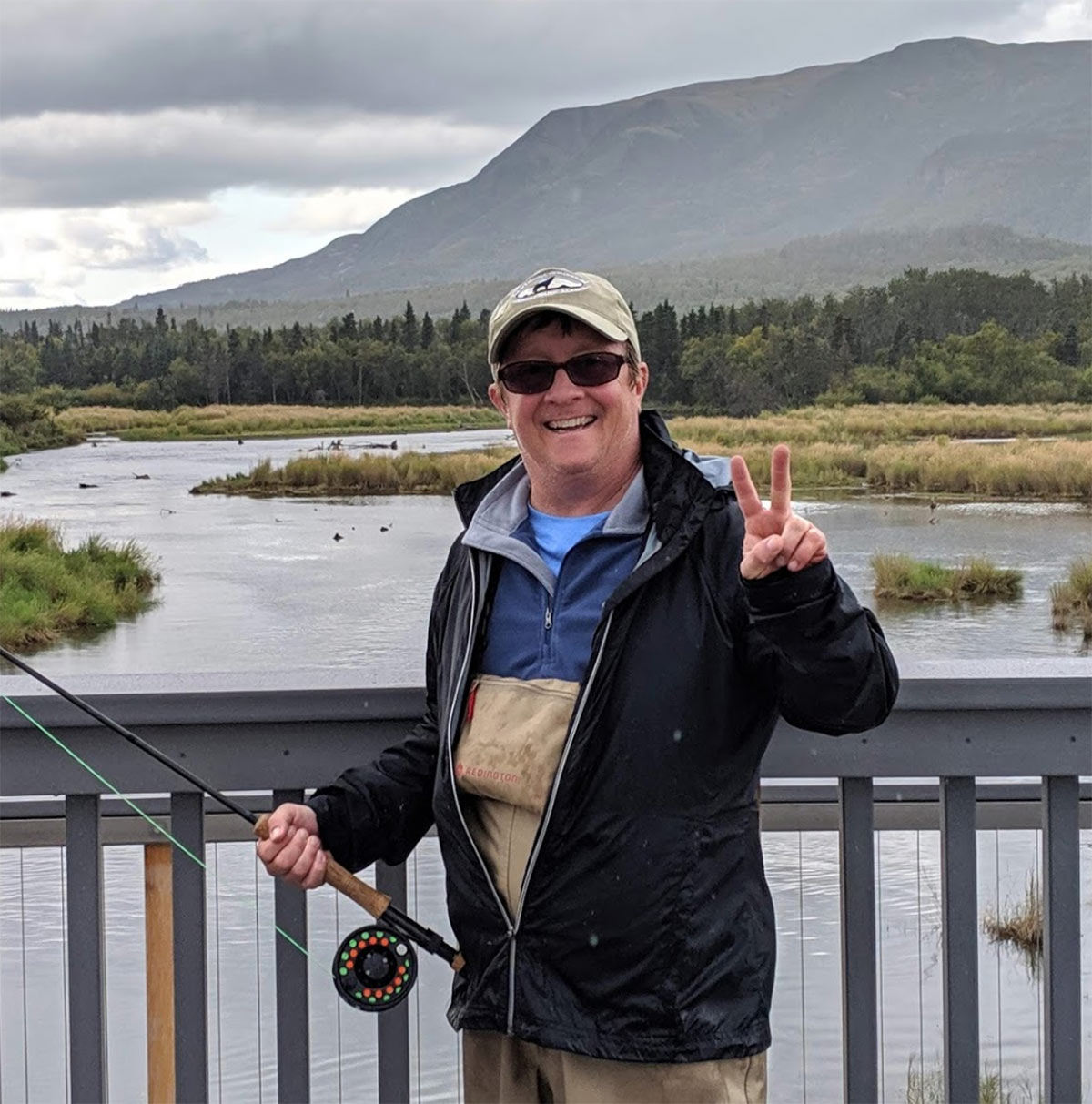 MIKE SWINSON
Gondwana Adventurer

Grizzly Bear Tours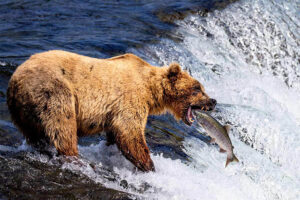 Looking for Alaska bear viewing trips? Try Gondwana Ecotours for the best grizzly bear tours, Alaska glacier hiking tours, and Alaskan adventure tours.