Calling all wildlife lovers! Do you want to view a live bear camera of bears in Alaska? Did you know that you can watch one of North America's largest predators in action online anytime you want? If you want to see a live bear cam in Alaska, then we have access for you below. The grizzly bears of Katmai National Park, known for their incredible size and insatiable appetite, can be viewed 24/7 on a live bear camera overlooking Brooks Falls. The falls are a favorite spot for wildlife viewing in Alaska and a destination on our Glaciers & Grizzlies Adventure tour! Here are some fast facts about grizzly bears, the world-famous Brooks Falls and its live Alaska bear cam!
The Grizzly Bears of Katmai National Park (King Salmon, Alaska)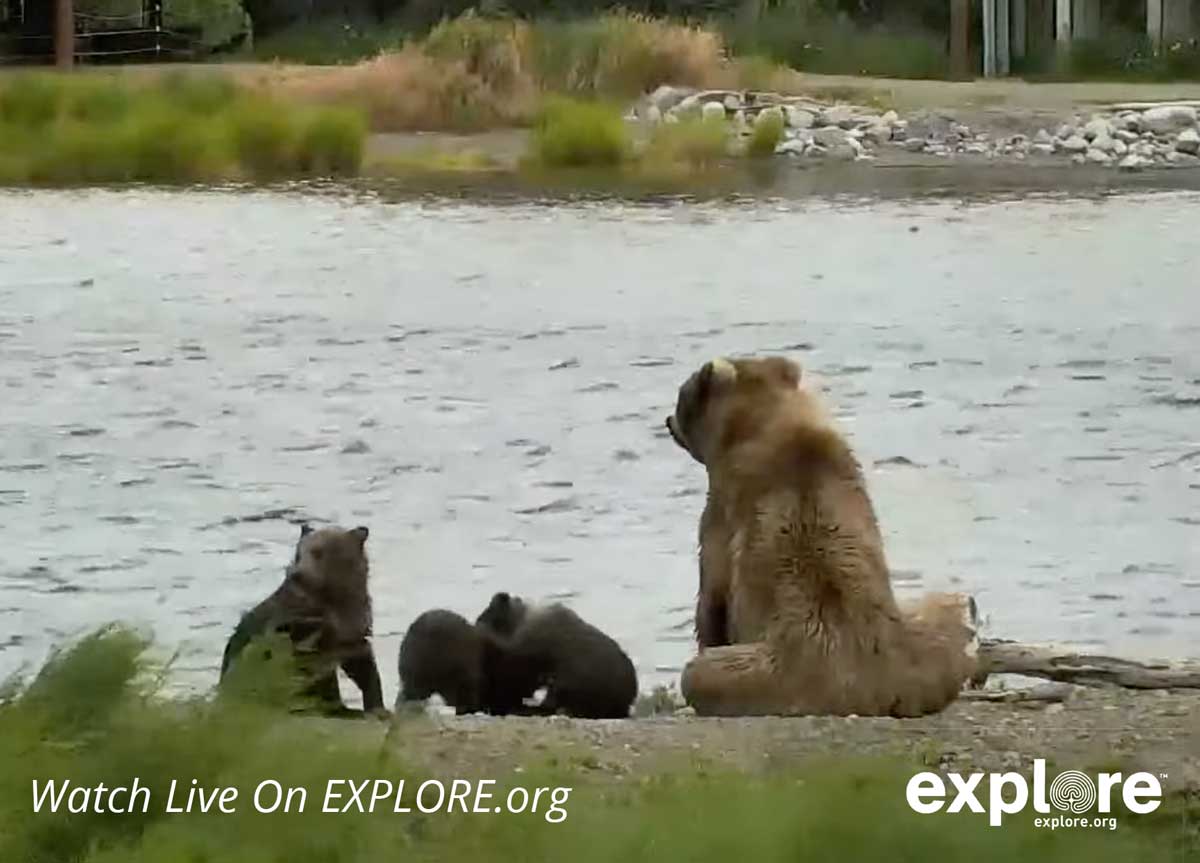 Watch Bear Cam Of Bears In Alaska
The grizzly bears of Katmai National Park are some of the largest bears in the world! You can watch them on the Katmai bear cam – live! Males can weigh over 1000lbs and grow up to 10ft tall.¹ This is several hundred pounds more than their cousins in Yellowstone National Park. Their size makes them intimidating and they have a reputation for being fierce, but as long as they don't feel threatened they aren't usually aggressive. They avoid people whenever possible and only congregate in large groups to feed. And grizzly bears can feed with the best of them! Since they hibernate for 5 to 8 months in the winter, they need to store fat, taking in up to 90lbs of food per day.² This is why you'll find large groups of them in the Brooks River during the salmon run, feasting on the fish as they swim upstream to their spawning grounds.
Brooks River and Brooks Lodge's Alaska Bear Cam (King Salmon, Alaska)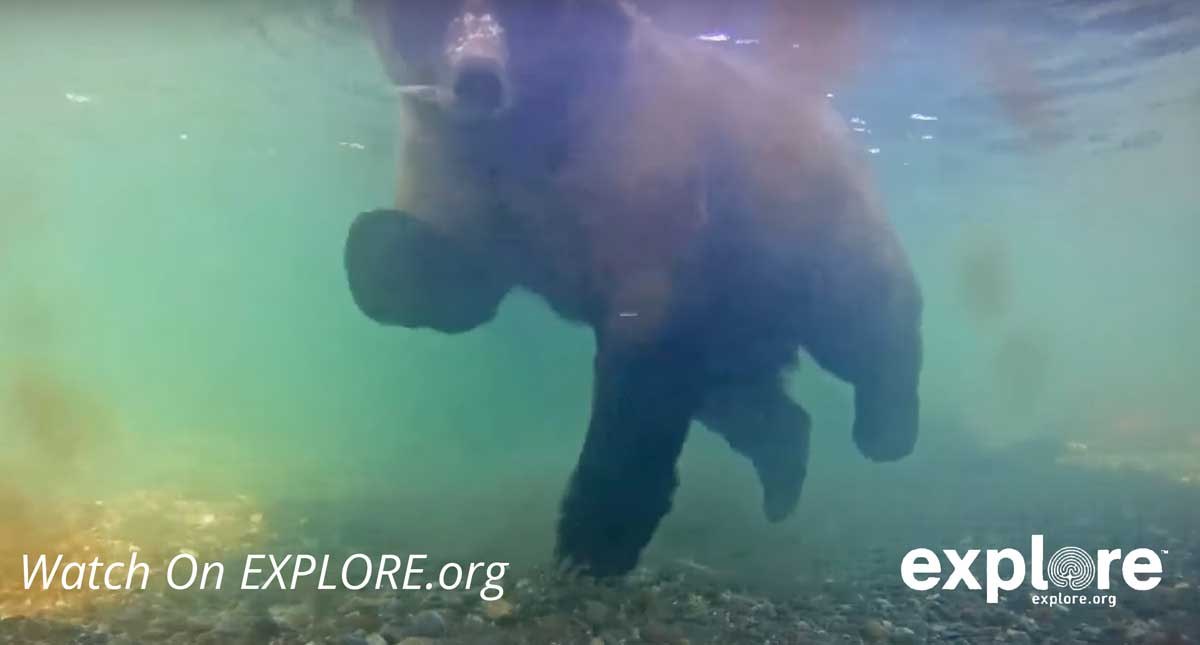 Underwater Bear Cam Alaska
The Brooks River in Katmai National Park is world-famous for the grizzly bears that gather there every year to feed on the salmon. You can tune in to watch the Brooks Falls live bear camera in Alaska or visit in person. Either way, it's a safe spot for adventurous travelers to catch a glimpse of these giant predators hunting and playing in the water—a true wonder of nature, live and unfiltered. Most visitors stay at Brooks Lodge when watching bears in Alaska. Brooks Lodge has been in operation since 1950, providing cozy accommodations that are only a few feet away from viewing platforms along the river. Here, it's not a question of if you'll see a grizzly bear, but how many. At any given time, there can be up to 50 grizzly bears in the river. If you'd like to get a better idea of what it's like, you can watch it live on the Brooks Falls Live Bear Cam. 
What Type Of Bears Can You See On The Brooks Lodge Bear Cam/
Since the 1980s nature lovers have been observing bears that frequent Katmai and the brooks lodge area. If you are eager to view bears via the Brooks's lodge bear cam, then be preapred for the types of bears you may see. In fact, the type of bear you will see on the bear cam is likely to be a grizzly. A bear cam is a safe way to watch bears, but if you are interested in seeing bears in person, then learn about what it's like on one of our available bear tours.
Brooks Falls Live Grizzly Bear Camera
The Brooks Falls Live Bear Cam was set up in June of 2012 to let bear-lovers watch the river live 24/7 during the summer season. It's the perfect location to catch grizzly bears in action since the waterfalls in this mile-long stretch of river slow the salmon down, giving hungry bears the opportunity to catch them. If you watch closely, you'll see that grizzly bears have several different hunting techniques, including the stand & wait, the dash & grab, snorkeling, pirating salmon from other bears, and diving. Grizzlies can eat up to 40 fish a day so there's a lot to see during peak season. Off-season, you can still get your bear fix by watching the cam's highlights from the previous years. 
Alaska Bear Camera At Glacier National Park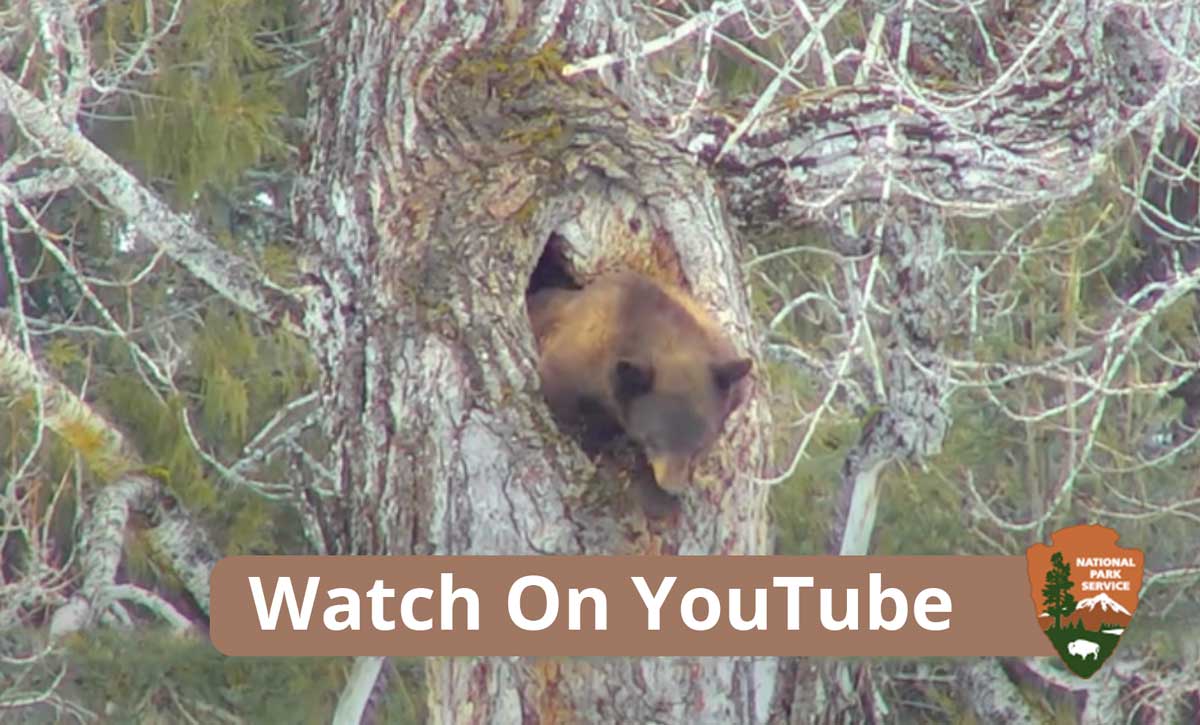 Brooks Falls Bear Cam — Alaska
If you are interested in a rare peek of the bears of Glacier National Park in Alaska before you visit, then take a look at the National Park service's youTube channel. On there you can witness black bears emerge from hibernation. To watch this in action you must have your timing right. Bears typically are not on the move during colder weather. So, when do bear emerge in glacier national park? To watch this in action (in person or via a bear cam) you should join when temperatures are warming — during the spring months.  
Live Bear Cam Outside Of Alaska (Live Bear Cam In Yellowstone)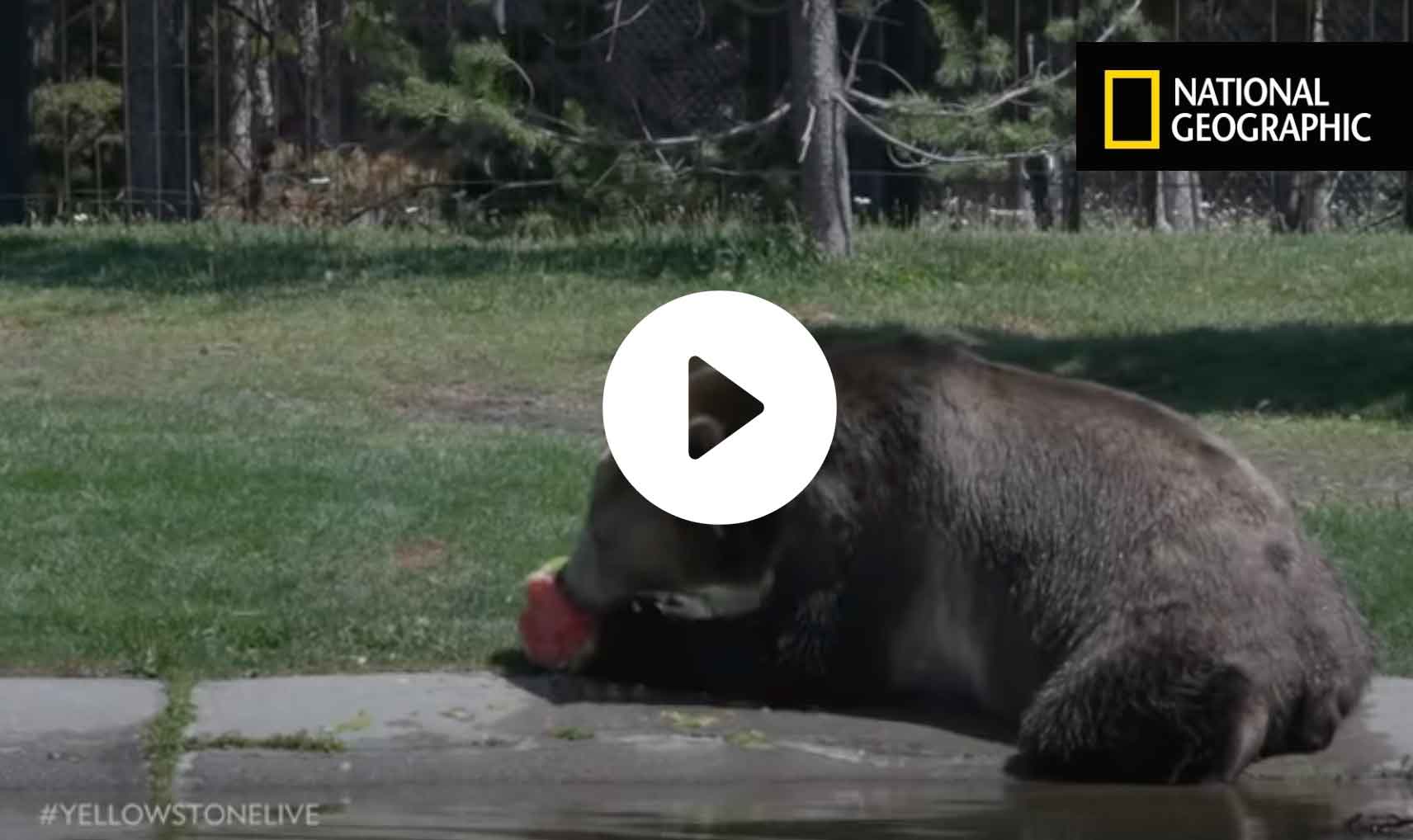 Brooks Lodge isn't the only place that has live bear cams. In fact, if you're interested in seeing the biggest bear in Yellowstone, then you can also see the bear cam featured on National Geographic's Youtube channel. Click here to see the Yellowstone Bear Cam.
Want To See Bears In-Person Instead Of Online Via A Live Bear Camera?
While the Brooks Falls Bear Cam is a fantastic way to catch a glimpse of the lives of the Katmai grizzly bears, it's no substitute for seeing them in person. That's why Gondwana Ecotours has but together our <Glaciers & Grizzlies Adventure tour! It is the quintessential Alaskan summer bear tour that takes you through Katmai National Park and the Kenai Fjords National Park. You'll not only stay at the world-famous Brooks Lodge overlooking the river, but you'll also see Exit Glacier and take a boat ride through the Kenai Fjords. Find out how you can book your adventure today!

---
¹"Brown Bear Frequently Asked Questions." National Park Service.
²"Brown Bears." National Park Service.