"How Likely Is It to See the Northern Lights?"
People often ask about the likelihood of seeing the Northern Lights in Alaska, and I wish I had an exact answer. I usually tell people that if you go far north to a place like Fairbanks in the winter, you have a great chance of seeing them. To put it in context I'll share a few stories about some of our experiences with Aurora Borealis to better contextualize their presence.
It was a cold, dark night in Fairbanks when I was sitting outside with my friend and trusty Gondwana guide Bruce on look-out duty for the Northern Lights. I remember it was hard not to stare at the stars and get lost in my own thoughts. If you think you've seen bright stars, wait until you go to a place near the top of the world where city lights don't wash out their brilliance. Suddenly, the skies came alive. Green, purple and yellow streams of light danced in the sky, blending together and creating bursts of neon colors, caused by a full-blown solar storm.


I quickly ran to the lodge and woke up the guests who wanted to experience the Aurora during the night. Some guests were content with the sights they saw earlier on the trip—faint hints of color lighting up the sky in a heavenly way. However, this event far exceeded what anyone had imagined…even myself: I had never seen a solar storm of this caliber before. As our guests hurried out of the lodge, everyone's eyes fixated on the sky. We were all so excited and I felt so fortunate to share this special experience with each and every one.
Another story about the Northern Lights I enjoy is that of my friend Scott. He is a professional photographer that joined a trip last year to take photos. All of his photos of the activities, food, lodges are incredible and really capture the fun spirit of the trip. Oh… and his pictures of the Northern Lights are nothing but perfect.

One night when the group was in Fairbanks, Scott wanted to explore the town. We noticed a pale green haze over the city, which we knew came from the Aurora, but it didn't entice the rest of us to stay outside and watch for them. They next day, Scott told me he captured some amazing photos of the Aurora Borealis. I was confused at first, because I did not see any strong appearances that night. Also, we were in an area with much light pollution—very unlikely for them to be seen. After the trip, he sent me the photos. He captured beautiful shots of saturated purples and greens in the sky over steamboats and the town square. To me this goes to show that Northern Lights can appear when you least expect it.


I recently heard from Jane, one of my favorite people in Fairbanks. She runs a small business where she lets people mingle with her herd of reindeer. You get to know them for a little and she'll even take you on a nice walk through the forest with her caribou. She told me about her new night walks with the reindeer. In small group settings this is quite the enchanting experience, especially if there is a full moon.
One story she told me that really struck me, happened on one of the first night walks. The guests made their way down the forest trail with the small herd of reindeer as if they were walking their dogs without a leash. The reindeer would sometimes knock snow off the tree limbs with their antlers or bump into one another from time to time, garnering a chuckle or two. Suddenly, the Northern Lights materialized out of nowhere. Jane told me it was a perfect experience: the reindeer frolicking against the backdrop of the dancing Northern Lights.


The Aurora Borealis are a sensational reminder of how wild and spectacular our world can be. They, along with many other of the world's natural wonders, are one of the reasons why I founded Gondwana Ecotours. You cannot predict nature, nor bet on it. When I encounter something as incredible as the Northern Lights, I feel very fortunate that I can witness the profound events of this world—and even luckier that I can now share them with you.
But, I want to see the Northern Lights! Then check out our Northern Lights Tour.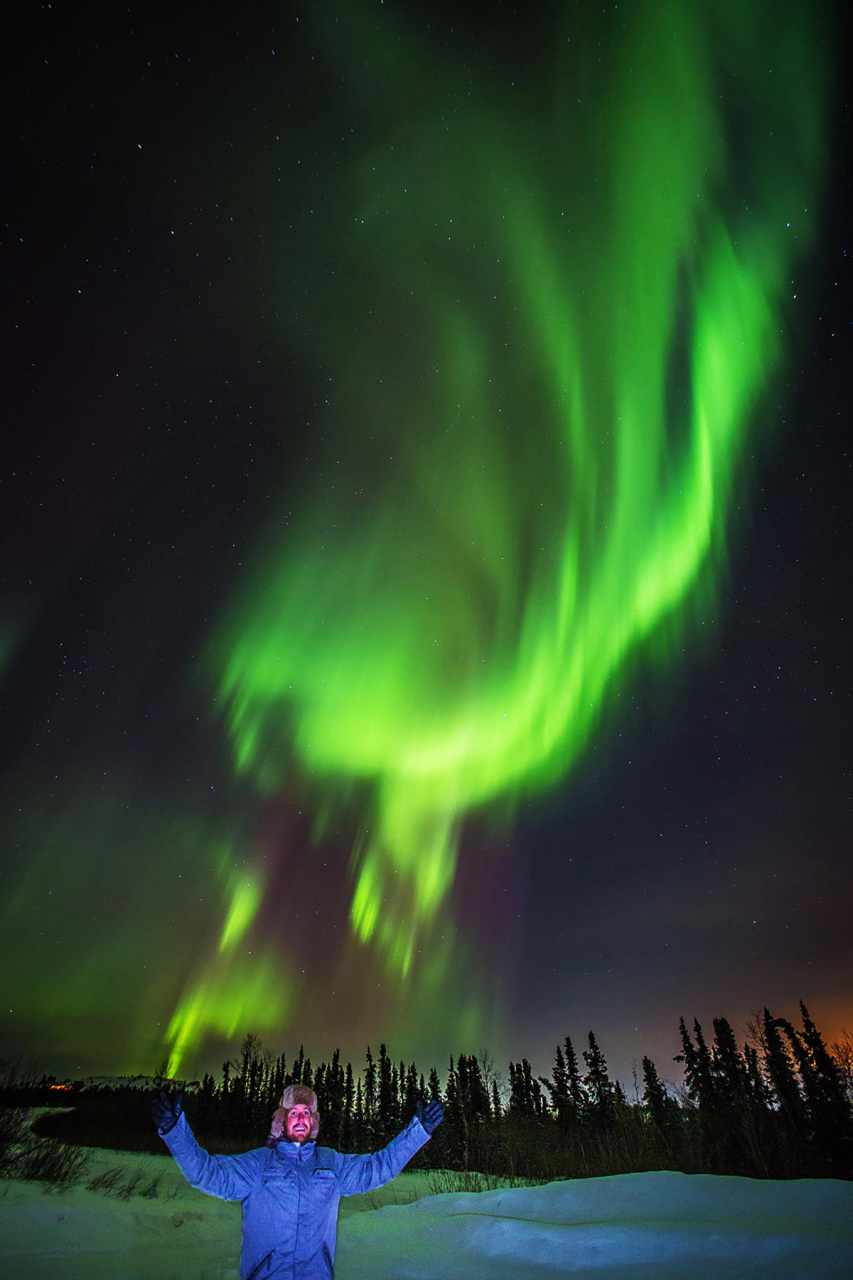 Download Our Northern Lights Brochure Here.
[ninja_forms id=13]