Before you plan your trip to Alaska, check out these little-known facts about Alaska's colorful coastal region. 
Alaska is Full of Beaches!
When you picture a beach, you might imagine a crowded vacation spot in Florida or California that is filled to the brim with sunbathers building sandcastles. It might surprise you to know, however, that Alaska actually has more miles of shoreline than the rest of the United States combined! With 6,640 miles of coastline along the ocean and an additional 33,904 miles of shoreline (including Alaska's islands), you won't have to travel far to find a beachfront view. While these beaches don't get as warm as those in more tropical climates, they are less crowded and surrounded by the beauty of Alaska's stunning landscape. So pack your sunscreen and bathing suit (if you're brave!) before you head out on your next Alaskan coastal adventure so you can enjoy a fun day of tide-pooling, kayaking, fishing, or even surfing!
The Alaskan Coast is Full of Wildlife!
Alaska is one of the only places in the world where you can see both grizzly bears and whales as you travel along its coast. In the spring and summer, you can find giant grizzlies (technically coastal brown bears) gathering in rivers to feast on salmon at Brooks Falls or wandering along beaches digging for clams. It's an incredible sight that many people travel from all over the world to see. Bear viewing trips are typically available around Katmai National park and Lake Clark National Park and include our own 9-day Glaciers & Grizzlies Adventure tour! 
After your bear watching adventure, you can easily jump on a boat to go see yet another giant mammal, the humpback whale. These 40-ton animals migrate to feed in Alaska's coastal waters every summer. You might also be able to catch sight of some of their smaller cousins, the orca, the beluga, and the gray whales.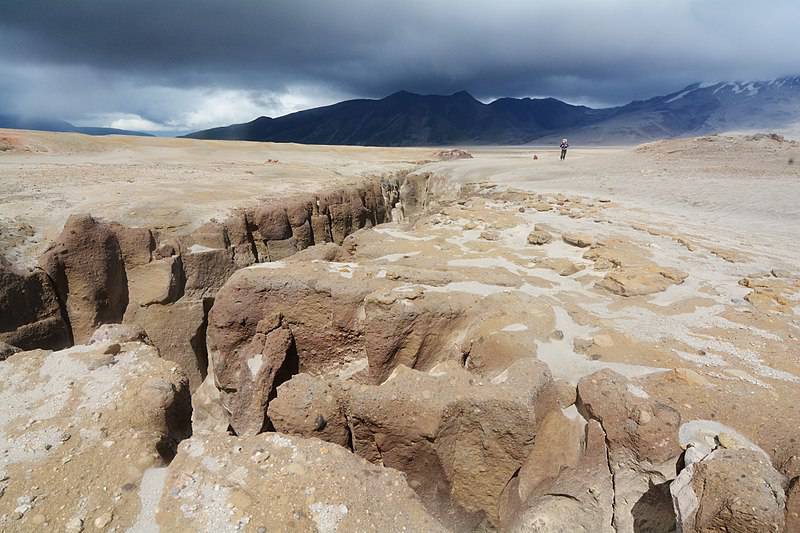 The Alaskan Coast is Full of Volcanoes!
Pop quiz! What U.S. state is home to the highest number of active volcanoes? Alaska tops the list with a whopping 141 active volcanoes, some of which you can see for yourself as you travel along Alaska's Coast. The Valley of Ten Thousand Smokes in the Katmai National Park is one of the most popular volcanic sites in Alaska. This area was decimated by the 1912 eruption of Novarupta. Over 40 square miles of ash and debris buried the once-fertile Ukak River valley, leaving behind a strange and desolate landscape. Novarupta is still active and expected to erupt again, but until then, visitors can see for themselves the impact of its destructive force.
The Alaskan Coast is Full of Glaciers!
Most travelers know that there are glaciers in Alaska, but few might realize just how many glaciers there actually are. It's estimated that there are over 100,000 of them spread out across 28,000 square miles! Many of them are in remote areas that can be difficult to get to, but luckily, there are a few spots where you can get close to one along the coast of Kenai. The famous Exit Glacier is one of the most accessible glaciers. There's even a handicap-friendly trail that will take you right up to its base. Another option is to book a glacial cruise or a kayaking trip around Kenai Fjords National Park. You can get close enough to the glaciers to see them calve, which is when a piece of ice breaks off the glacier and falls into the bay.
ALASKA'S GIANT VEGETABLES :
The state is located close to the north pole where it enjoys up to 19 hours of sunshine each day, during summer and at the peak of the growing season. The extra hours of sunlight allows Alaskan crops to just keep growing and growing. pic.twitter.com/fEAKnaXpLM

— Spreet ਸਿੱਧੂ ?? (@_toxic_tvitter_) April 24, 2020
The Alaskan Coast is Full of Food!
You might have already heard about Alaska's legendary seafood. The state is known for its wild-caught salmon, cod, halibut, and crab. And when you're close to the source, everything is fresher and in some instances…even bigger. Alaska holds the record for the largest salmon ever caught at 97 pounds and 4 ounces. Then there is their red king crab, which regularly measures up to five feet across!
It's not just the seafood that's bigger, however. During the state fair just outside of Anchorage, you can find a wide array of massive vegetables. Love cabbage? A 138-lb cabbage should last you a while. Or how about 35-lb broccoli? This phenomenon might seem strange at first since Alaska has shorter growing seasons, but the extra sunshine that they get in the summer makes for some monster vegetables! 
Perhaps you prefer something a little sweeter than broccoli? It might surprise you that in the summer, berry picking along the coast is a regular activity. Like the vegetables, berries in Alaska thrive during the growing season. Blueberries, salmonberries, raspberries, crowberries, cranberries, and lingonberries are all plentiful and popular. They say in some places that there are so many blueberries, you can't find a place to sit without staining your clothes blue! So bring your buckets and start looking up some pie recipes because you'll need them for your next Alaskan Coastal Adventure!