An African Safari is a bucket-list experience for a reason, and the thrill of the unknown is a huge draw when it comes to traveling. However, traveling to a new continent can be a daunting task, especially when considering safety. When traveling to new places, it's essential to research and find out what to expect.
A question that a lot of people have when they are planning their safari vacation is: are African Safaris safe?
Africa is a continent with over 50 individual countries, each having a unique history and identity. Political instability, poverty, and unemployment have been a challenge for many countries in Africa, but it is an incredible place to visit, and there are many safe safari destinations.
What Makes a Safari Safe? 
Many different factors contribute to the safety of a safari destination. These include personal safety, the amount of petty crime, safety from wild animals, the global peace index ranking, and the overall crime rate. 
Travelers can be targets for scams and pickpockets anywhere in the world, so it's important to be vigilant. We recommend having traveler's insurance to cover potential losses and traveling with an established safari company for extra peace of mind.
The key to staying safe while you are out in national parks is to listen to your safari guides. Guides are local experts with a vast amount of knowledge, such as the Conservationist Gorilla Trackers we work with on our Gorilla Trekking Safari in Rwanda and Uganda. Safari guests strive to disturb wildlife as little as possible, so you'll want to keep your voice down. It's important to wear clothing that blends in with the landscape like brown and khaki and stay in the vehicle as this is the safest place to be. When staying in lodges and deluxe tents, it's important not to walk around without an escort at night. 
Many sub-Saharan countries host safaris, but choosing the right one to visit can be daunting. We selected the following five destinations as the safest places to safari in Africa. 
Tanzania
Travelers often return from Tanzania saying they felt incredibly welcomed to the country. Travelers often feel very welcome in Tanzania because politeness is one of the pillars of Tanzanian culture and the people are some of the most friendly you could meet. Tanzania is a safe and politically stable country in eastern Africa.
The Serengeti National Park is a great safari destination for people seeking a glimpse of the annual wildebeest Great Migration. Another safari highlight is the Ngorongoro Crater, a UNESCO World Heritage Site that is renowned for spectacular views and bountiful wildlife. Tanzania is one of the less "touristy" places to go on safari, which gives it a less crowded feel than some of the more popular destinations such as South Africa. The national parks, including Serengeti National Park and the Ngorongoro Crater are often quieter and more remote than some of the other common safari destinations.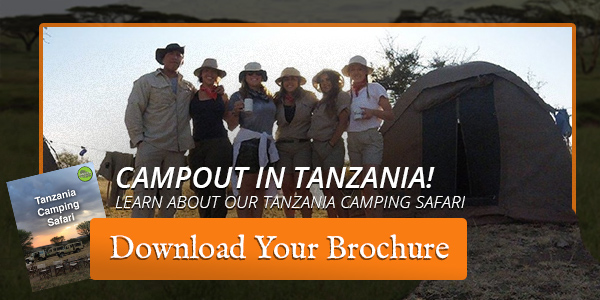 Rwanda
Rwanda is another safe country to visit on safari, in part due to the work that the tireless work the government and the community of Rwanda have put in to help their country recover after the Rwandan Genocide. The most exciting trekking destination is Volcanoes National Park, which is teeming with wildlife as well as being home to the critically endangered mountain gorillas — seeing the gorillas in person is an incredible safari experience!
Botswana
Botswana's top safari destination is Chobe National Park, which is dense with all sorts of iconic African animals. With over 50,000 elephants migrating through the park, Botswana has one of Africa's highest concentrations of these incredible animals. Botswana is consistently ranked as one of the safest countries in Africa. It sits landlocked in the middle of Southern Africa, sandwiched between Namibia, South Africa and Zimbabwe. Soccer is the national sport, played every Saturday in stadiums and fields across the country.
Zambia
Zambia sits at the crossroads of Central, Southern and East Africa. Two of the biggest safari attractions in Zambia are Zambezi National Park and Victoria Falls. Victoria Falls is a waterfall on the Zambezi river, located on the border of Zambia and Zimbabwe. Victoria Falls is a world heritage site and one of the world's largest waterfalls. There are generally fewer tourists than in other safari destinations and unpaved roads keep the landscape looking wild.
Namibia
The deserts, mountains, canyons, and savannas of Namibia are spectacular. Namibia has the Atlantic Ocean as its western border. Etosha National Park is a big safari attraction and is home to iconic animals such as elephants, rhinos and cheetahs, as well as amazing landscapes. 2002 marked the end of the Angolan Civil War, and safety in Namibia has advanced hugely since the end of the conflict. 
South Africa
South Africa sits on the southernmost tip of the African continent. It's a country that is renowned for varied topography, natural beauty, and cultural diversity and is popular with travelers, especially for safaris in Kruger National Park. However, because South Africa ranks in the top 20 countries in the world in terms of crime rate, we would not recommend South Africa as a safe safari destination.
Traveling with an established safari company and arranging travel insurance are beneficial things to do to stay safe in new places. Taking safety into consideration when traveling on safari in Africa will help give you peace of mind and make your vacation more enjoyable. While in the city or on safari, it is also important to use common sense and be vigilant about safety. Choose your location based on the tips above, and travel with an experienced safari outfitter to make sure you can relax and have the best time possible!