See Polar Bears In Alaska!
Get up-close with these elusive bears in their natural habitat.
We invite you to join us on an unforgettable private adventure to Alaska's Arctic, which includes incredible scenic chartered flights, up-close polar bear viewing and authentic cultural activities. Our guides are on hand to help you capture the perfect photo if needed.
This polar bear trip also offers plenty of chances for cultural exchange and education. Learn from natives and Arctic residents about what it is like to live in such a challenging environment. See the traditional equipment used in tribal whaling expeditions and hear from a tribal elder boat captain how native life is adapting with modern times. Discuss the issues of global warming and sea ice recession with an Arctic environmentalist and author. This is a very unique trip with authentic culture and amazing opportunities for viewing and photographing polar bears in their native habitat.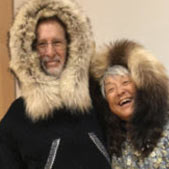 "Not only was viewing polar bears in their natural environment an amazing experience, but interacting with local people enlightened us about lives above the Arctic Circle. A real eye opener!"

—Judy DiFiore
Start Your Private Polar Bear Adventure Tour Request
We are currently offering this tour on a private basis only. Please contact us for questions and details using the form above or by calling 877.587.8479
Since this tour is offered as a private departure, trip length, activities and inclusions depend on your itinerary. Let us know what you are interested in and we can design an all-inclusive adventure where everything is included except your flights to and from Alaska and gratuities for guides and hotel staff. Your private trip package may include:

All local guides
Chartered flights from Fairbanks to Kaktovik and/or Barrow and back to Fairbanks
Polar bear safari with a chartered boat with a heated cabin
All your meals, including wine/beer at dinner(s) in Fairbanks
Home visit with a tribal elder and captain in Barrow
Visit with a local resident active in environmental management
A conversation with an expert in polar bear habitat and research
A lesson from a professional, well-known wildlife photographer
Visit to the Native cultural center in Barrow
All ground transportation and chartered flights in Alaska
All accommodations in Fairbanks and the Arctic. Note that accommodations in the Arctic are rustic
Gallery From The Polar Bear Adventure
click for larger images
Are You Ready To Learn More About This Ecotour?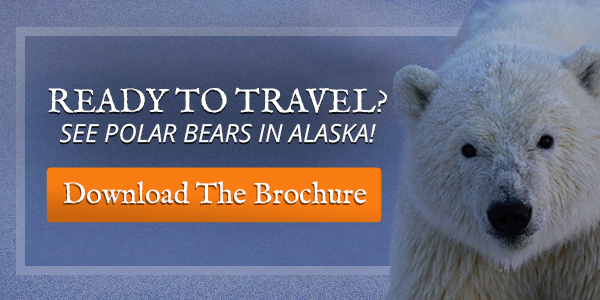 Add To Your Alaska Trip!
Our Northern Lights Ecotour is a great chance to view the Aurora from the comfort of a unique family owned lodge outside of Fairbanks, plus a ton of exciting winter activities like dog-sledding, hot springs, curling, hiking with reindeer and more! Our September 30th Northern Lights Ecotour is perfectly lined up for you to join after our September Polar Bear Adventure.