Alaska is famous for a lot of things: snowy winters, stunning scenery, and its awe-inspiring wildlife. The Alaskan coast is amazing, as are the Northern Lights that you can see in the winter, but one of the main things that many people travel to Alaska to see is the population of North American Brown Bears.
Grizzly bears are a subspecies of North American Brown bears and can be found in large numbers during the Alaska summer, but during the winter they hibernate to escape the cold. There are a number of different ways to see grizzly bears in Alaska, but one of the most surefire ways is to go on a designated Alaska Grizzly Bear Viewing Tour. 
There are several different locations and National Parks you can visit for bear viewing, so professional tour companies can use their expertise to give you the greatest chance of seeing bears. We've included a few of our favourite bear viewing spots in this article.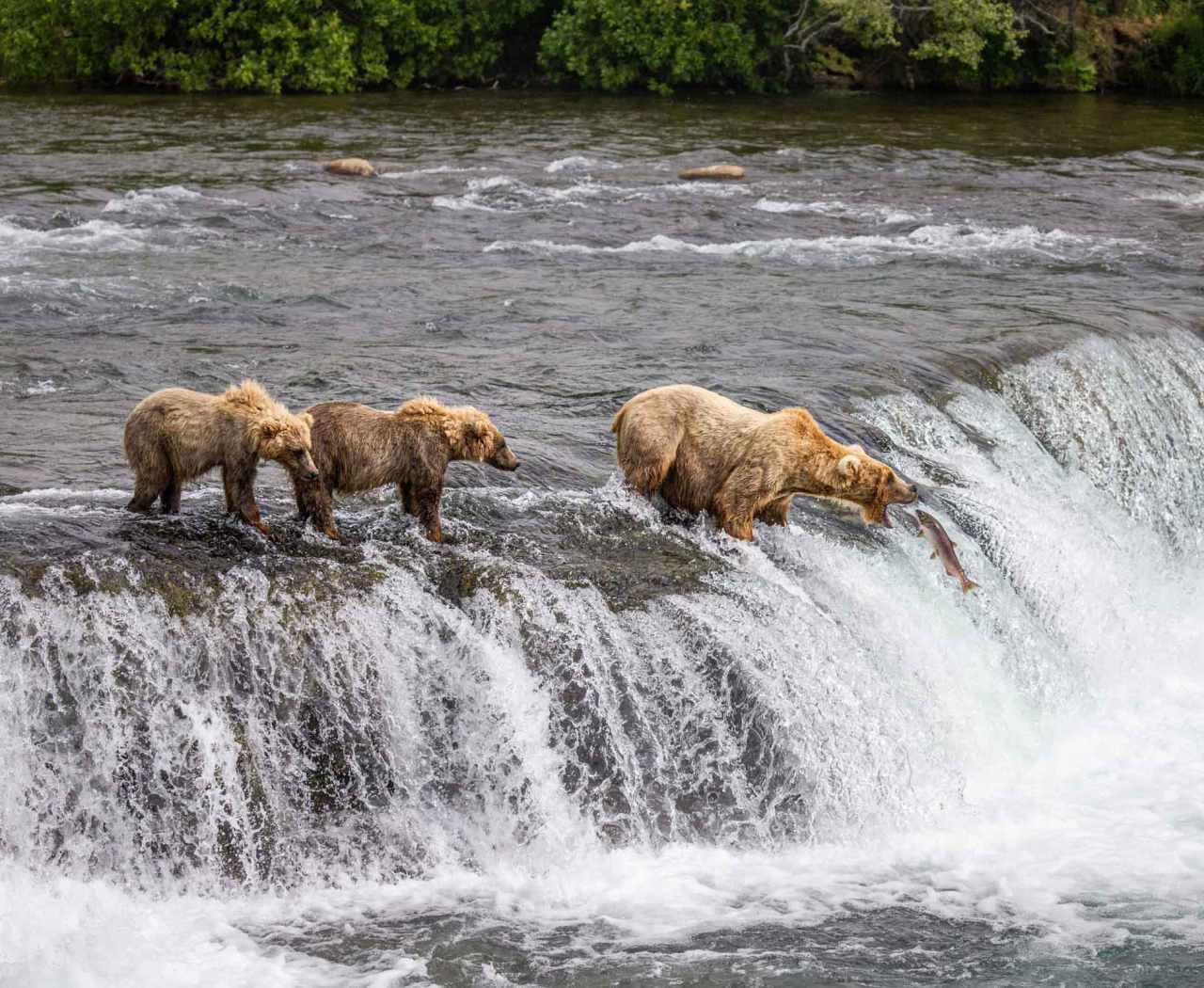 Katmai National Park
With incredible glacial valleys and lakes, and well as the famous Valley of Ten Thousand Smokes, Katmai National Park is an incredible place. Katmai National Park is home to Brooks Lodge; a world famous site for viewing grizzly bears. Brooks Lodge is the perfect place to view grizzly bears feeding on salmon (the bears in this part of Alaska are technically Coastal Brown Bears, but are more commonly known as grizzlies). Each summer the salmon make their way upstream to spawn, and many of them inevitably end up as dinner for hungry grizzlies!
Lake Clark National Park
Lake Clark National Park is another fantastic spot for bear viewing. It tends to have less crowds and is a bit wilder than Brooks Lodge. Chinitna Bay is one of the most popular bear viewing spots in Lake Clark National Park. Here, rather than seeing grizzly bears feeding on salmon, you'll see them digging for clams along the shore. 
Grizzlies have a reputation for being fierce, but unless they feel threatened they are not aggressive. The safest way to view bears is to travel with an experienced guide. This ensures the thrilling experience of seeing giant grizzly bears up-close without the danger.
Bear viewing trips are typically available around Katmai National park and Lake Clark National Park, and we run our own 9-day tour called the Glaciers & Grizzlies Adventure. 
Gondwana Ecotour's Glaciers & Grizzlies Adventure tour is a great way to have a safe bear tour, and experience an Alaskan Coastal Adventure, exploring world-famous National Parks and landmarks like Exit Glacier. On your bear viewing trip, you also get the chance to experience activities like hiking, watching sea life, kayaking up close to a majestic glacier, and riding for a stretch on the fabled Alaska Railroad! Most people can enjoy this adventure — we accommodate most ages and fitness levels.
Find out how to book your adventure here!