The Best National Parks in Alaska to see Grizzly Bears Feed on Salmon
There are certain sights in nature that are iconic; whales breaching the surface of the oceans, eagles soaring over mountains, and grizzly bears feeding on salmon. It may seem too good to be true that all of these sites can be seen in a single state — but Alaska has all of these wonders (and more!).
Why do grizzly bears feed on salmon?
Grizzly bears are a subspecies of North American Brown bears. They are omnivores; they'll eat anything from berries to birds, and yes, salmon.¹ From June – September each year, the salmon swim upriver to get to their spawning sites. This is when grizzly bears gather to feed on them. This event is known as the salmon run and it offers incredible opportunities to see this spectacle for yourself, up close. Towards the beginning of the season, you may even see mother bears with their cubs, but if you travel towards the end of the season then grizzlies start preparing for hibernation, so you might miss them. But you might catch beautiful Fall Colors and less crowds.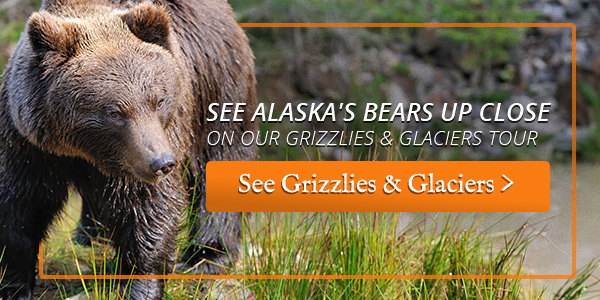 Bear season and the salmon run in Alaska lines up with the
summer tourist season
. If incredible activities like hiking, whale watching, kayaking, and deep-sea fishing sounds like your kind of summer, then visiting Alaska from June – September is the best time for you.
Where can I see grizzly bears feed on salmon in Alaska?
Katmai National Park in King Salmon, Alaska
Katmai National Park is home to Brooks Lodge, the world famous site for viewing grizzly bears feeding on salmon. Guests at the lodge can walk to a viewing area where they see bears playing in the waterfall, and catching salmon. 
On the Glaciers & Grizzlies Adventure tour with Gondwana Ecotours our travellers board a chartered flight to Katmai National Park and Brooks Falls for a day of bear viewing. The views from the plane are stunning, but the views of the bears are even better! We spend several hours watching the bears feed on salmon, play and mingle at Brooks Falls.
As you can imagine, this is a very popular experience! Brooks Lodge and Falls is never truly exclusive, there are always other guests and campers around, which is why we take our visitors to another spot as well.
Lake Clark National Park in Port Alsworth, Alaska
Brooks Falls has lots of bears, but this makes it very popular with tourists. Lake Clark National Park is less well-known, but equally as loved for bear viewing. Lake Clark has less crowds and is a bit wilder than Brooks Lodge. Chinitna Bay is one of the most popular bear viewing spots in Lake Clark National Park. Rather than seeing grizzly bears feeding on salmon, you'll see them digging for clams along the shore. It's a different experience than Brooks Falls, and just as special.
It's a tough decision, right? Well, fortunately, if you travel on the Glaciers & Grizzlies Adventure tour with Gondwana Ecotours on our we visit both locations. The day after visiting Brooks Falls, we fly to a remote beach in either Katmai or Lake Clark National Park (depending upon weather and bear activity) for a more remote, quieter bear viewing experience, with hardly anyone else around for many miles. 
Online Bear Camera Viewing: Brooks Falls Bear Cam (Brooks Falls, Alaska)
If you can't wait until you get there in person, the Brooks Falls Live Bear Cam could give you the bear-fix you're craving. The Bear Cam has been running 24/7 each summer season since June 2012. It's fixed in the perfect spot to see grizzly bears feeding on salmon because the waterfalls slow the salmon down and the hungry bears seize the opportunity. During the off-season, watching the highlights from the previous year's footage is a great way to see some bears. 
The Brooks Falls Bear Cam is an amazing way to get a taste for what you would see on a bear tour to Alaska, but it's no substitute for the real thing! Gondwana Ecotours Glaciers & Grizzlies Adventure tour is an incredible way to see grizzly bears feeding on salmon, as well as seeing the world-famous Exit Glacier, taking a boat ride through the Kenai Fjords National Park and more. Find out how to book your adventure here!
---
¹"Photo Arc: Grizzly Bear" National Geographic.